NHS paints SLHS picnic tables
If you've had the chance to stop by the school lately, you might have noticed a new attraction outside of door four. The South Lakes National Honors Society (NHS) chapter recently headed a school beautification project in which members painted the new picnic tables by the student parking lot. Spending around four hours on the project, the student volunteers finished every picnic table with our spirited Seahawk colors of green and blue. The tables are used by in-person students at lunch during this period of concurrent learning 一 and what a great way to spice up the seating arrangements! The South Lakes community seems to love the new and improved tables, so much so that it prompted conversations suggesting more tables to be added next year.
Some of the great designs include cow spots, flowers, smiley faces, zig zagged lines, and even the earth. On a side note, if you're into chess, checkers, or tic-tac-toe, check out the back table closest to the brick wall, it has a game board painted right onto it! The NHS volunteers did such a beautiful and detailed job on every table's surface, it'll be hard to choose a seat.
The school is grateful to have these works of art out on their lawn, and even more so to have such dedicated volunteers. School beautification is important, especially in a time where a little creativity is essential.
About the Contributor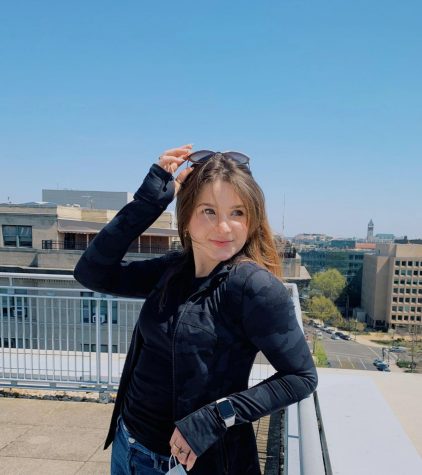 Taylor Anderson, Co-Editor in Chief
Taylor Anderson is a Senior at South Lakes and is the Co-Editor in Chief for The Sentinel. She is a part of the SLHS varsity cheer team, and really dedicates...