Farewell to our Editor in Chief, Helen Ehrlich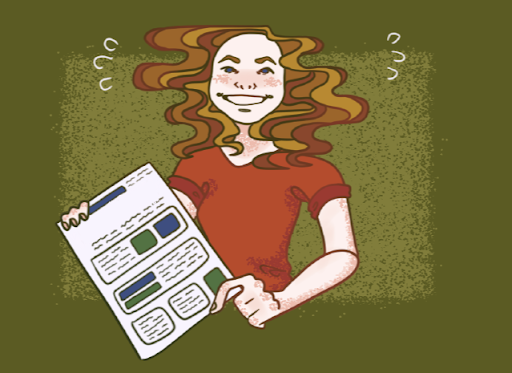 Helen-
I'm going to start this off pretty simply by saying thank you. Your work for The Sentinel has shown that even when we move into a global pandemic, there is still light at the end of the tunnel. I know that this is not the senior year that you had planned for, but nonetheless, I think that you have done a fabulous job juggling everything in your life. I know that while you were the face of The Sentinel, you were also an avid member of South Lakes Young Democrats, serving as Co-President this past year. More than just that, you have been a terrific role model for not only me, but for all of the new students who have joined this class.
When I met you back in my freshman year, I honestly thought that you were very passionate about writing and that you knew a lot more about grammar than I did. That was true, but over the course of the next few years, I did get to know you, at least in my opinion, pretty well. When I was named Sports Editor in the fall of 2019, I knew that I was pushing myself up the ranks. At the time, you were in a similar position as my current one: waiting in the wings as Assistant Editor in Chief. As Leana's year was cut short, you were thrust into the role as Editor in Chief in different circumstances than you had probably had hoped. That being said, you approached it with confidence and diligence. At no point during this year were you ever complaining to me about your workload or anything like that. The two of us have become names on a screen to many of the new students in the class. It is so hard for us to really do our jobs to the fullest like that but we, you in particular, have done a great job with helping the writers become more skilled and polished.
All of your contributions to The Sentinel are nothing compared to the biggest project we have planned. For those who are unaware, Helen, Leana, and I have been trying to slowly build up The Sentinel from its humblest days to what it is today. From making a fun and engaging Instagram account that has amassed hundreds of followers (check us out by the way @slhsentinel), to actually becoming a part of the school culture. The Sentinel has never had the large budget of a school like Langley, Chantilly, or Thomas Jefferson, but what we do have is a lot of chutzpah, Yiddish for courage or audacity. There has never been a challenge too big for us, and that is made evident by the way we have grown in the recent years. Furthermore, we are so close to your vision, as well as Leana's vision being recognized which is a massive deal to all three of us.
Anyone who knows me beyond a screen would know that I am a cynical, sarcastic, pessimistic person. I don't really collaborate as well as I probably should, and I will insist on writing every article by myself and with no help from my staff. That was my case last year, as I astoundingly wrote a grand total of 85% of content for the Sports Department last year. Yes, I did the math. Clearly, that was unsustainable and the two of us acknowledged that. Over the summer, we brainstormed ideas to not only better the program and product, but our collaborative efforts. I can proudly say that those efforts are successful, and we have made a good team, at least in my opinion. It truly amazes me considering we are very different in many senses, but I think that one thing we most definitely share is an ambition to succeed. My abrasive, brash style of leadership is balanced out by your more understated style. Multiple times this year, I have come to you very frustrated due to a lack of effort from students, poor organization of articles, among others. You have always approached these things with a level head, and that is appreciated on my end. One thing, however, that we will not agree on is the Oxford Comma, which I am very in favor of which you are very against. I can go on and on about it, but I know I am right, I don't need the confirmation (that was sarcasm, the jury is still out on it).
Wrapping this up, I wish you nothing but luck at Bryn Mawr over the next four years. I know that you will shine brightly in any arena you enter. I know that so many people have wished you luck, but I do hope you succeed and visit. You have given me the best preparation I could ask for, and I hope to pass that onwards to the future leaders of The Sentinel. The last line will serve as a promise to you: your vision will be realized and The Sentinel will always remember your contributions.
-Marc Goldstein
Rising Editor in Chief
The Sentinel
PS: I am going to break your record for the most articles written over the course of four years!