Fall Favorites Returns at Cox Farms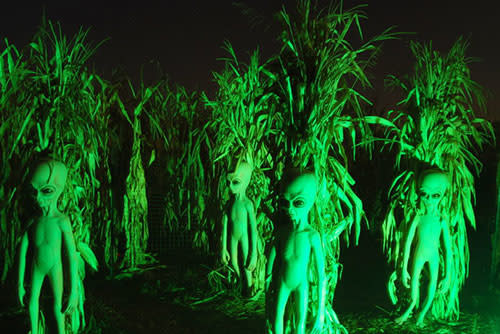 Fall has arrived, which means it's time to get excited for freakish fun at Fields of Fear. It is just as enjoyable as it sounds, and only requires bringing on the fright!
Fields of Fear opened on September 24th and will continue operations through November 6th. It is located at Cox's Farms, which doesn't require to travel far from Reston at all.
Fields of Fear has a couple of days off to space out the times they are open. For the safety of the people, the need to close between days is essential. Due to COVID 19, safety measures have not changed. Masks and social distancing are required.
There are quite a few attractions at Fields of Fear. The Dark Side is a ride to remember. One will encounter the Lost Circus, abandoned in the 1900's. For those who don't scare easily, the Forest Back: 40 consists of spiders, chainsaws, and the occult. The Corn Nightmare is a frightening experience, but it'll give you the satisfaction you were looking for. Last, but certainly not least, the Fairgrounds are for those who need a rest from all the scare!
You may be thinking about what your experience would be like at Fields of Fear. Amena Syed, a freshman at South Lakes, shared her experience. "This year is less scary than last (year). The food, rides, and the employees were wearing masks, not only for Covid reasons, but to bring on the fright, are the best parts," Syed said. Scary may have been in season for the longest time, but this year's change should be thrilling.
The fall season brings so much more than just spooky hayrides and frightful walks through the Forest: Back 40. Fall consists of cooler weather, cozy clothing, pumpkin spice lattes, and holidays that bring so much joy. Excitement for the new season abounds with the holidays around the corner. Fields of Fear should definitely be first on one's list, but carving pumpkins and thinking of Halloween costumes is a close second. The best way to kick off the upcoming season is with an exceptional night at Fields of Fear; don't miss out!

To learn more about the attractions at Fields of Fear, you could visit the Fields of Fear website.