Much More than the Attendance Line: Ms. Bruens Strives to Build Connections with Students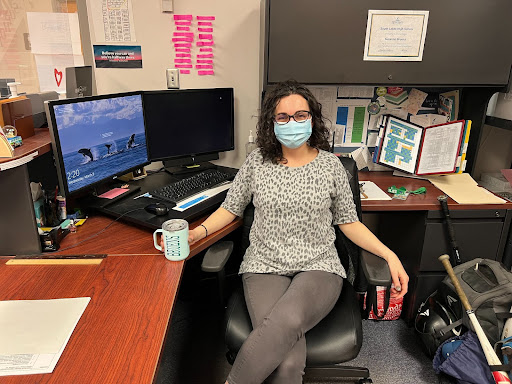 Checking voicemails, answering phone calls, writing early release passes, and entering planned absences for the day are just some of the many tasks that Ms. Suzanne Bruens starts her day doing. Working in the sophomore subschool as an administrative assistant comes with a set of challenges, but Ms. Bruens' positive attitude is sure to trump any difficulties that come her way.
The infamous substitute teacher shortage was an issue that affected the whole county. Some classes were left without teachers, or were taught by teachers from other departments. Ms. Bruens had to work hard to ensure that coverage was taken care of, and each class had a teacher. "Teachers had to give up their planning period to help cover classes. There was a lot of juggling information to make sure it was equitable, and everyone had what they needed. It was a big challenge," Ms. Bruens explained. As a subschool administrative assistant, "you need to be organized, as there are a lot of things to be done," Ms. Bruens adds. During the 2021-22 school year, another new situation was brought to the table: contact tracing. Having to contact trace for COVID, and put students on pause was a big logistical undertaking. Ms. Bruens had to work quickly and efficiently, as "timing was tight, and there was a lot to do."
But much more than her administrative duties, Ms. Bruens strives to build connections with students and staff members. Whether you need a bandaid, or help finding your counselor, are checking out early, or need someone to talk to, Ms. Bruens says she is happy to help any students needing assistance. "There are some students who come to me if they have a problem, and I really like that they trust me. I like being that person for them," she says. Ms. Bruens wants students and parents to know that if they need anything, the subschool is always a safe space, "I'll always be there for them," she explains. "The relationships I've made with students are the best part of the whole thing."
This is Ms. Suzanne Bruens' third year working at South Lakes, and her second working in the subschool. Prior to working at South Lakes, she taught preschool and also worked in advertising, while taking time in between to raise her two boys. In her free time, Ms. Bruens enjoys playing tennis, doing puzzles, spending time with her friends and family, and going on walks with her dog, Jeannie.
During her time at South Lakes she hopes to continue "creating an environment in the subschool where everyone feels comfortable, and supported. I want people to feel heard, understood, and helped."
Thank you for all you do, Ms. Bruens!