Orchestra's Spring Concert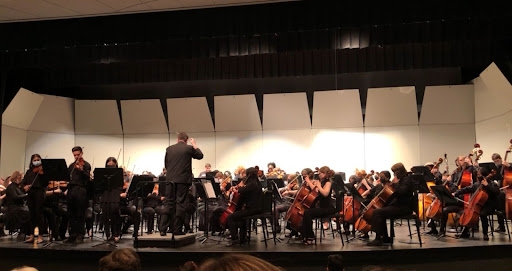 The warm spotlights of the South Lakes stage shone upon more than a hundred orchestra members as their director, Mr. Baldwin, raised his baton to signal the first beat of their final performance for the year. Energy circulated through the auditorium as the bright sounds of "Kingdom Dance" from the movie "Tangled" filled the stage.
The Orchestra department held their final performance for the year on Tuesday, May 17, 2022. The Concert group opened the night with "When Johnny Comes Marching Home", and ended their program with an energetic "Highlights from The Lion King", which featured percussion.
The Symphonic orchestra followed with a spirited four-movement Spanish Capriccio. The orchestra played two Jazz pieces as well as a very lyrical theme from The Godfather.
The Chamber group began their performance with movement IV from Hadyn's Symphony No. 70. Their program featured solos on the violin and piano, as well as a crowd-favorite vocal performance of "Everybody Loves Somebody Sometime."
Finally, all three groups gathered on stage for one last performance of a song from the Disney movie "Tangled". In addition to a harp player and string instruments, there were students playing drum set, triangle, tambourine, and accordion. The piece was an exciting conclusion to a notable year that marked the department's return to in-person concerts.
"My favorite piece to play by far was C-Jam, mainly because I had a solo," commented Hyun Cho, a sophomore who played a cello solo in the Symphonic concert. The aspect of multiple students receiving solos definitely contributed to the overall excitement at the concert.
Mr. Baldwin added, "The last performance of the school year is always bittersweet. I look at it as another facet of the program, and another opportunity to present music to an audience. I love the last concert because we're operating on all cylinders. And everybody's playing at the highest level they have all year."