Savory Sips at Starbucks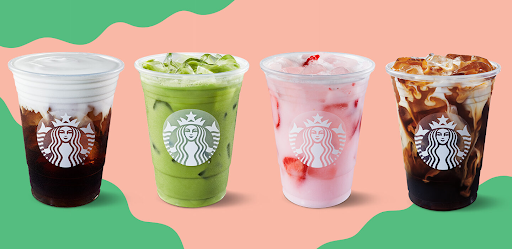 With the tremendous amount of heat these days, it feels nice to have a refreshing drink every now and then. Starbucks has so many refreshments that are both thirst-quenching and delicious. Some of the best drinks aren't always mentioned, so here are a few of those awesome drinks that are waiting to be ordered.
Strawberry Refresher with a Green Tea Twist
The strawberry acai refresher alone is one of the most popular drinks at Starbucks. Although with a little green tea twist, the drink becomes ten times better than it already is. Order a regular strawberry acai refresher, and ask for green tea instead of water. This addition to the refresher brings in a new taste to the original drink. The strawberry acai base mixed in with a splash of green tea, is not only filled with flavor, but also simple to order.
Classic Iced Matcha Lemonade
One of the most delicious duo's, is matcha and lemonade. The iced matcha lemonade has been on the menu for a long time now, however, it is the perfect refresher for the spring. It's very vibrant green appearance, and the sweet/sour taste is exceptionally incredible. A sip of the tart lemonade along with the blast of flavor that unfolds from the matcha is unmatched.
Gummy Bear Inspired Refresher
What if there was a way to drink a beverage that tastes exactly like gummy bears?
Well, with the gummy bear refresher, it's like drinking gummy bears from a cup. It has the perfect amount of fruity, sugary essence in it. To get this drink start by ordering a strawberry acai refresher. Then, ask for peach juice instead of water. Finally, ask for two pumps of raspberry syrup. The fruity taste and appealing looks of the refresher is too hard to resist.
Radiant Rose Gold Refresher
The pink/peachy tint of the rose gold refresher is a delightful sight. To order this drink, start by getting a mango dragon fruit refresher. Make sure to ask for no dragon fruit inclusions or water. Next, ask for regular peach juice. After that, ask for one to two pumps of classic syrup, as well as one to two pumps of raspberry syrup. It's recommended to order it with light ice, just so there is more drink, and less water. It may be a mouthful to order, but it is definitely worth it.
Starbucks Spring Special
The iced toasted vanilla oat milk shaken espresso came out in early march, but can still be enjoyed all throughout spring. It is made with a few rich espresso shots, toasted vanilla syrup, and is thoroughly shaken together with oat milk and ice. The amount of sweetness and creamy espresso the beverage contains, is what makes this particular drink unique. As the weather gets warmer, this drink becomes more and more ideal to have.
With all the new drinks being invented, it's kind of hard to resist the urge to want to try them all. Starbucks drinks are almost always savory and refreshing. The drinks listed above are worth trying, so don't waste time, and head to your local Starbucks to try these unusual, yet delicious concoctions.