South Lakes Learning Center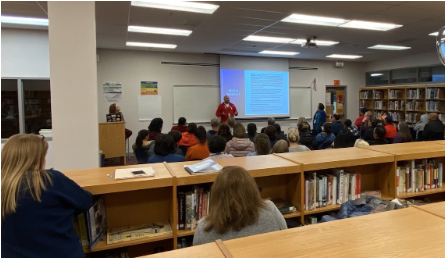 It comes as no surprise that Fairfax County Public Schools has always been ranked among the best counties for education in the US, especially with Thomas Jefferson High School for Science and Technology continuing to uphold it's spot at #1 under national rankings. It also comes as no surprise that the pandemic was a difficult stretch of time for students and teachers alike. So what does this mean for our ranking? While it has slipped from the top ten, FCPS is not out of the race yet, sitting around #17.
With a title—and some pride—to regain, schools are scrambling for ideas to help students get back on their feet. Tutoring is always a go-to, but with that comes some hindrances such as time and money, not to mention a student's discontent with asking/receiving extra help.
South Lakes' solution to this is the Learning Center, an afterschool program based in the library. Every Monday and Wednesday, both of which are late bus days, student and teacher tutors offer their services to students who need help with homework, writing, extra help, etc. This offers struggling students a non-committal, quick, and easy solution to a typically nagging problem that they otherwise wouldn't have seeked help for.
And if the Learning Center wasn't enough, the library also hosts a Writing Center, Retake Center, and Counselor Support Center. While these services collaborate under certain circumstances, such as retake corrections and then the followup retake, they all offer their own individual forms of support.
The anticipated outcome of the Learning Center, and those alike, is that students are receiving help in a way that is efficient, accessible, and more than anything benefits students. If these goals are met and maintained, SLHS could start to see its name once again climbing the ranks as they are all based on test scores and grades.
Asking for help can be embarrassing, but the Learning Center is here for you and other students in the same boat. If this is the type of help you might find beneficial all you need to do is drop in after school Mondays and Wednesdays, no prior sign up needed. Even if you stop by in the middle of the school year, tutors are willing and able to help anyone with most homework and writing assignments.