Hitting her stride: Ms. Tuttle's marathon journey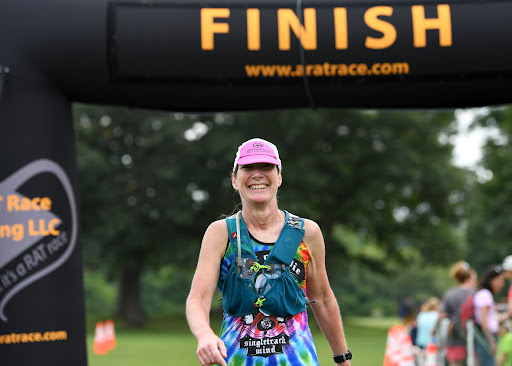 There's always more to someone than meets the eye. When South Lakes English teacher Ms. Tuttle's not in the classroom, she's running marathons! Eight years ago, Ms. Tuttle made the goal of running marathons in all 50 states. Now, she has only one state to go!
Ms. Tuttle ran a couple marathons before deciding she was going to go for all 50 states. "I think I met [50 staters] when I was running the Delaware marathon…," she said. "I ran that one in 2007… so there were all these 50 staters there, but I had already run Virginia and Maryland, so I thought 'I have three states done!' and it kind of planted the seed… But I didn't really pick it up until 2014."
Delaware was the fastest she's ever completed a marathon, ending with a time of 4 hours and 27 minutes. Ms. Tuttle usually runs around three times a week to stay in shape, completing a three mile loop to maintain optimal fitness and to recover.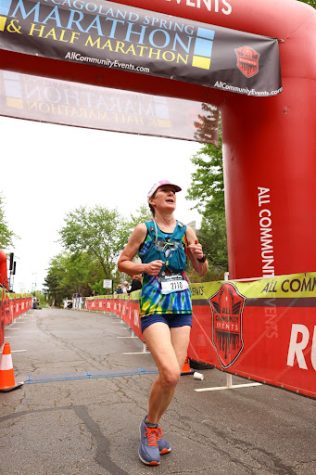 Running one marathon is already impressive enough, but to do over 50 is incredible! When asked about how she stays motivated, Ms. Tuttle responded, "I think runners are obsessive personalities to some extent. You're making a training plan and checking off all your runs, so it's nice to have a race you're working towards. It's easier for me to train for a race than it is to just run."
After completing so many different races, Ms. Tuttle admitted, "It's so hard to choose [my favorite]. I did love [the] New York [marathon]… that was really fun just because it's so big. There was music playing and people cheering. But now I've come to the point where I like medium races, just because there's no fuss. You don't have to wait around for hours at the beginning like you do in New York."
Ms. Tuttle's family will be traveling with her to Maui for her final race, an anomaly, as she usually makes these trips on her own. The family plans to stay the week and do some tourist activities while they're there. She's content with celebrating the completion of her goal, but can't help but look towards the future.
"Now the problem is, what is my next goal? The last two years I've run 10 or 13 marathons a year… I have no idea what's next."