Do you like jazz? Students showcases their skill at annual jazz concert
The South Lakes High School jazz band had their spring concert at the Reston Community Center on May 12th, showcasing their hard work for our Reston community. The night featured three groups: the Langston Hughes jazz band, the SLHS Jazz Hawks, and the Original Jazz Trio.
"I was shocked at how many people turned out," says Nikhil Kuntipuram (drumset). "They had to go get more chairs."
After audience members grabbed as many desserts they could carry, the performance opened up with the Langston Hughes band. It was the first time they had performed live since 2019, giving budding musicians a chance to play at the same event as their future bandmates.
Afterwards, the high schoolers took to the risers, and played jazz classics including Chameleon by Herbie Hancock and Brass Machine by Mark Taylor.
Individual students had their time in the spotlight, displaying the musical shades of different instruments. Each piece featured different instrument solos from a deep, rich bass solo to a bright and sunny trumpet solo to a thunderous drum solo.
Midway through their performance, the band took a short recess to give a special feature performance to the Original Jazz Trio: a subset of the jazz program founded by Colin Surabian (double bass), Michael Meyers (electric guitar), and Nikhil Kuntipuram (drumset). The three were only supposed to play for one or two concerts, but got on so well they ended up forming a lasting partnership. Friday the 12th marked their one year anniversary of playing as a trio, emphasizing how much they enjoy playing together.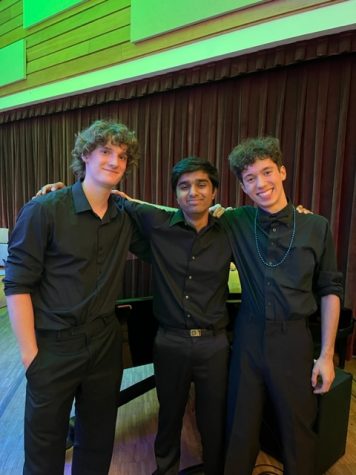 "They're just awesome guys," Kuntipuram remarks about his trio. "Performing with them is honestly so much fun."
Playing jazz teaches students much more than syncopation. Because of its origins in improvisation, the trio "learned how to communicate with each other without even talking."
Each of these skills will prove valuable for them. "My overall goal is for us all to become better musicians," says Kuntipuram.
After they played some tunes together, the jazz band regrouped, ending the night with a bang with songs like the 1930s Sing Sing Sing by Louis Prima.
"The audience reaction, I'd say, was really positive," says Kuntipuram.
After the concert, musicians mingled and were congratulated by audience members, but the next day the musicians would go back to working hard. The Original Jazz trio was showered with opportunities for school and independent gigs sprinkled throughout the weeks following. Follow them @theoriginaljazztrio on Instagram!
As for the collective, the entire band program had its band concert on Thursday the 18th at 7:00, featuring all three classes for their last concert of the year.
Congratulations to all our hard working Seahawks!