Color guard at gold star event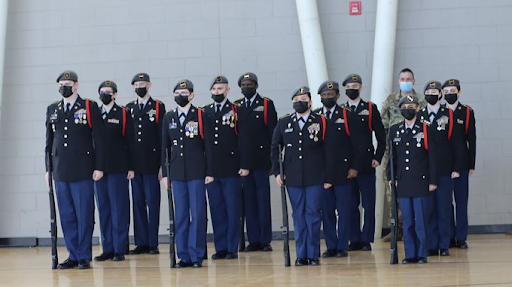 South Lakes's very own JROTC Senior Color Guard was spotlighted at a Gold Star Event. The Color Guard performed spectacularly with US Elite Virginia even highlighting the performances of South Lakes Students, Karen Lainez Diaz, Erika Ramos, Katherine Krull, and Julia Shelby. Sergeant Handy is their army instructor and permitted South Lakes Students to participate.
The Gold Star Event is a way to honor Gold Star families. A Gold Star family is a family that has had a family pass away while serving our country. They are considered crucial components of the martial community and the history of the United States. People that are playing in the Gold Star event have asked for the inclusion of some of their family members or friends of their family that could be included in the event.
Katherine Krull was one of the students who were highlighted. They are a commander of the Honor Guard and are part of some of the many different teams in JROTC. They are also XO of Operations. Here they answered a few questions about their experience at the Gold Star Event.
How was the experience of performing in front of gold star families?
"Performing in front of the gold star families was very meaningful. Going into the event, I wasn't entirely sure what it meant, but learning the significance of the event and what it meant made the experience better. The ceremony was very solemn and the color guard went well, which is always the goal."
How long have you been in JROTC/Color Guard?
"I have been in JROTC for three years and been doing color guards for all three years. For this event, we had an Honor Guard, which includes the more experienced cadets. Our Honor Guard team does most of the high-profile color guards like graduations, galas, and events like the Gold Star ceremony. I have been in the Honor Guard for two years and am the commander this year."
Did you enjoy your time in JROTC/Color Guard?
"I really enjoyed my time in JROTC because of the opportunities it gave me and the leadership skills I gained, but also because of the people. I made very close friends and will always cherish the memories I made in the program. Color guards are also very fun because we get to hang out with our friends at new venues and it's nice to be an important part of ceremonies and events for other groups and organizations. Color Guards for sports games are especially exciting."
What were your opinions on JROTC/Color Guard in the beginning and how did they change?
"At first, I joined JROTC because I thought it would help me prepare to go into ROTC or a service academy in college. It did do that, but it was also much more than just that. I joined the drill team, marksmanship team, academic team, and honor guard, where I formed great relationships and competed with other schools. I also developed as a leader by holding different leadership positions in the battalion, organizing events, and working with people in charge of organizations we helped. JROTC helped me and shaped my high school experience much more than I thought it would. At first, color guards were just something we learned in class and did at sports games, but I grew to really like them and I always volunteer for them when I can."
How did you feel performing in front of the gold star families?
"It was a great feeling to be able to do the color guard in front of the gold star families because the gold star represents a great sacrifice that someone in that family made. I like doing color guards in the community because it lets me be a part of events I would otherwise not be involved in. On top of that, when an event is so important, like this one, it makes it more meaningful for the people in the color guard."