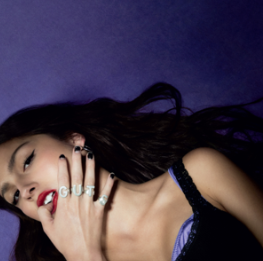 The Gen-Z pop star, Olivia Rodrigo is back with a bang, or more accurately, an explosive guitar solo. Rodrigo released her sophomore album, GUTS on September 8, 2023, putting out her "vampire" and "bad idea right?" singles in advance of the album. Both were incredibly successful, with "vampire" debuting at #1 on the billboard charts.
In making this album, Rodrigo leaned into the pop-rock sound that can be seen in her debut album, SOUR, in tracks like "brutal", "good 4 u", and "jealousy, jealousy." While the album does still include some of her signature ballads, there are definitely more upbeat tracks this time around. My main complaint with SOUR was that the ballads got a little boring after a while, so I was a big fan of the new approach. It seems like Rodrigo and her collaborators took what was popular with SOUR and enhanced it to create the masterful sound featured on tracks like "love is embarrassing" and "get him back!"
Here is my ranking of GUTS:
"bad idea right?"
The second single off the record, "bad idea right?" is a 90s pop-rock style track about meeting up with an ex. I particularly liked the guitar solo, which helps to break up the song. My complaints about the song are that I can find the sing-talking style that Rodrigo adopts to be grating to listen to, which really diminishes my motivation to listen to it. Hearing it constantly on TikTok has also made me feel like the song is overplayed. "Bad idea right?" could be a perfect song to play at a party, but listening to it on my own isn't as appealing.
Story continues below advertisement
"teenage dream"
The slowest song on the album, "teenage dream" expresses Rodrigo's insecurities regarding her age, talking about the fear that she has already peaked at the age of 19. Despite my love for the lyrics, the slow tempo and generic orchestral background music makes it boring to listen to, so I don't find myself reaching for it very often.
"logical"
A song about a manipulative ex, "logical" is a slower track that showcases Rodrigo's songwriting ability. I loved the lyrics, which illustrate the ways in which love can change one's perception of the world in an engaging way, but the production was too minimal for me to really get into the song.
"all-american b****"
The first track off of GUTS certainly leaves the listener with an impression. The song begins with a slow, soft sound, transitioning into a pop-rock halfway through, a tactic that is also used on "vampire." The song talks about the pressures that society puts on women to be constant rays of positivity. While I don't love the transitions between the slow and fast parts of the song, it is definitely a solid first track that is a nice intro to the rest of the project.
"get him back!"
Her third single off of the album, Rodrigo's "get him back!" is filled with energy, ad-libs, and a lust for revenge. Rodrigo sings about an ex, using a clever double entendre to convey her indecision about whether she wants revenge or to get back with him. The lyrics are absolutely hilarious, while conveying the indecision that Rodrigo is feeling, "I wanna meet his mom and tell her her son sucks!" It's a super fun track, but I found the constant ad-libs and intentionally choppy vocal editing to occasionally be hard to listen to. It contributes to the feel of the song a lot, but I find that it can get a little annoying after the initial listen.
"making the bed"
Another slow song off of the project, ¨making the bed" revolves around ideas of being discontent with life. I thought that the lyrics were really beautifully written, and I loved the way the background picked up, creating a nice pacing for the song. It was fast enough to keep my attention, but was still slow enough to allow me to appreciate the lyrics.
"vampire"
Rodrigo's first, and most successful single off of GUTS, "vampire" has become one of the most iconic songs from her entire career, debuting at #1 on the billboard charts. "Bloodsucker, famef*****" will forever be one of my favorite lines from any song, and is a strong condemnation of her recent ex, Zach Bia, who the track is rumored to be about. I am a huge fan of the way that the track builds, making the bridge and ending lines incredibly impactful. This track, for me, suffered from the same issue of being overplayed as "bad idea right?" experienced, however I find "vampire" to be a far stronger and more interesting song from the get go, allowing it to maintain a higher rank.
"the grudge"
A track that masterfully conveys the reality of being hurt by someone that you care for and the frustration that comes with not being able to forgive them. "It takes strength to forgive, but I don't feel strong," Rodrigo sings. While this song has the kind of minimal production that I usually dislike, the lyrics convey emotions amazingly well, keeping the song engaging, even though the instrumentals are less impactful.

"pretty isn't pretty"
A song about the insecurity Rodrigo feels in her looks, "pretty isn't pretty" is an upbeat track conveying her frustration with the ways society makes people feel like they are never beautiful enough. The song reminds me of a track from her debut album, "jealousy, jealousy," which also dealt with themes of someone not feeling like they are enough. Overall, it's a solid track that both conveys Rodrigo's experience and connects with her audience.
"love is embarrassing"
A track about falling for a person too fast, "love is embarrassing" conveys the frustrating nature of relationships. While the lyrics aren't anything super special on this track, I appreciated that they contained a nice blend of hilarious and emotionally impactful. The instrumental was a classic pop-rock style sound which played nicely with the feel. While the other elements of the song were great, my absolute favorite part of the song was Rodrigo's vocal stylization, which added a whole other layer of interest to this song. I would love to see her explore how to stylize her voice more in the future, because I feel like it adds a special touch to this song.
"lacey"
A song about feeling jealous of another person, to the point of loathing their every move, "lacey" is both sonically beautiful and emotionally impactful. The lyrics of the song convey Rodrigo's emotions insanely well, and her tone while singing furthers the emotional message. The instrumentals for most of the song are minimal, appropriate for the feeling of the track, but Rodrigo's vocalizations are the real star of the show here. They perfectly convey the angelic yet sinister feeling of "lacey."
"ballad of a homeschooled girl"
A pop-rock anthem about social anxiety—what more could a girl ask for? The lyrics talk about feeling clueless in a social setting, recounting Rodrigo's missteps at a party. The song itself is energetic, full of the sounds that can be heard on "get him back!" and "bad idea right?", in a way that eliminates the annoying singing voice that I had issues with on both of the tracks. It feels like the perfect culmination of her experience creating pop-rock songs, catchy instrumentals with the added bonus of lyrics that are both hilarious and impactful.
GUTS is an album that almost perfectly captures the experience of being a teenager, expressing confusion, heartbreak, jealousy, discontent, and joy in a single record that still manages to sound cohesive. Rodrigo's experience creating SOUR allowed her to refine her sound and style, resulting in a masterful sophomore record that is easily my favorite album of the year. Overall, I would give this album a 9/10 for its masterful songwriting, sound, and heartfelt messages.