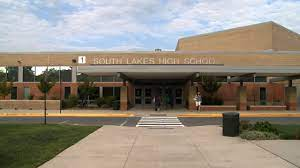 South Lakes High School, located in Reston, Virginia, has a rich history that spans several decades, marked by academic excellence, community engagement, and a vibrant school culture. Since the school opened in 1978, it has evolved into a symbol of educational achievement and community spirit.
South Lakes was made in response to the growing population in Reston and the need for schools in the area. During its early years, the school quickly gained a reputation for its commitment to academic rigor and creating a safe environment for its students. The Seahawk mascot, Seymour, became emblematic of the school spirit and unity.
In the 1990s the school continued to excel academically and became known for its athletic programs, including basketball, soccer, and track and field. Hall of famer Grant Hill was part of the starting 5 when he attended South Lakes. After high school, Grant went to Duke University where he won the NCAA National Championship in both his freshmen and sophomore year. This era also saw the establishment of various extracurricular activities and clubs that allowed students to explore their interests and talents.
In the 2000s, the school introduced International Baccalaureate (IB) courses and dual enrollment opportunities to prepare students for college and beyond. An emphasis on STEM (Science, Technology, Engineering, and Mathematics) programs further expanded the curriculum.
Story continues below advertisement
In addition to academics, South Lakes High School remains committed to community involvement. The school has organized numerous service projects, charity events, and community outreach programs. This dedication truly shows how much the high school cares about its students and community.