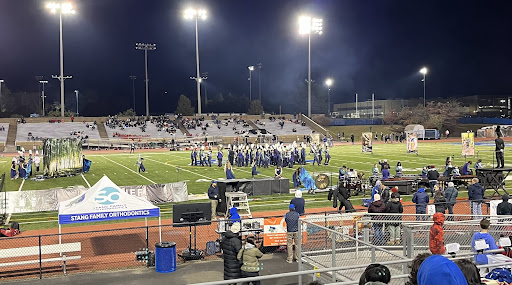 The best marching band in the land played their last note at the South Lakes v.s. Westfield game, ending their season with a stellar performance. Despite difficulties with weather cancellations, the group still triumphed with a superior rating at Assessment and competed at States for the first time since 2019.
Marching band is a coalition of students who come together to practice, perfect, and perform a show which "contains both music and visual aspects," said Nikhita Kuntipuram, the flute section leader. The marching band is composed of hornline (brass and woodwinds), percussion (drumline and front ensemble), and color guard.
They're most well known for performing at football game halftime shows, but "another part that people don't realize is that [they] actually use the show for competitions to get ranked and if [they] score well at Assessment it's [their] first step in becoming an honor band," said Kuntipuram.
An honor band is a title bestowed upon schools that receive a superior rating at both marching band Assessment and at concert band Assessment. South Lakes was an honor band last year, and with this year's marching band's superior rating, they are half way to achieving the title again.
Story continues below advertisement
This season was not without its challenges, the most notable being an inability to compete due to weather cancellations. "We did not go to a single competition until Assessment this year because all of them got rained out," said Annika Bhatia, the Color Guard co-captain. "Every single one got rained out."
Like with any team, not competing makes it difficult to know where to make improvements. "Judges' feedback is very important for us to grow and learn," said Kuntipuram, "so we didn't have any of that."
Despite the setbacks, the marching band pushed through and continued to work hard throughout the season, reaping the rewards at both Assessment and States.
"It was definitely an interesting season and definitely was kind of unorthodox when it comes to our scheduling, but everyone really pulled through it to do the most that we could do," said Sophia Milausnic, the drum major.
After a superior performance at Assessment, the group traveled to Kings Dominion to celebrate, bonding with their fellow band mates.
"As much as I love seeing everyone practice, it's good to see everyone having fun and kind of unwinding [after a] difficult week before Assessment," said Milausnic.
A few weeks later, despite a staggering 3:00 AM call time, the band competed at States which was a new experience for many students.
" I've done [color guard] for three years," said Bhatia, "and I've never gone to States [before] which was super fun."
The end of the season also marks the turning over of leadership roles within the marching band. The senior class certainly left their mark on the program and will treasure the memories and friends they made along the way.
"My section is very goofy so it's very fun hanging out with them," mused Kuntipuram, reflecting on being in charge of thirteen other flute players. "Just watching them grow [was] really nice."
Bhatia was proud that the membership of the Color Guard tripled since she first joined three years ago. "Being able to have such a large team this year was so fun," she remarked. She added, " I got to work a lot more with the band at least as captain because I had to work with drum majors [and] other leadership."
As seniors turn towards their futures beyond high school, juniors are rising up to make the marching band even better than ever.
"I really want to expand on the outreach we have," said Milausnic, a junior this year. "We definitely have experienced a lot of growth over the past year, but [we can reach] out towards the community and to the school to show off what everyone's putting so much hard work into."
While the marching band season may have ended, this was certainly not the last you've heard from them! Concert band is gearing up for their winter concert. Additionally, Indoor Color Guard and Indoor Drumline are both about to get started in the coming weeks.
"There are just opportunities everywhere for music," said Milausnic. "I think that music is one of the best things that a high school student can have in their life."