Top stops for ice cream this summer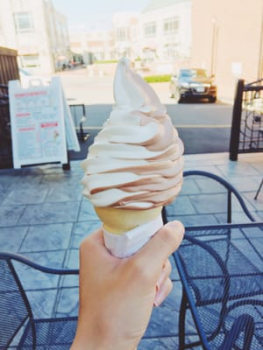 Hang on for a minute...we're trying to find some more stories you might like.
1.) Freddy's Frozen Custard & Steakburgers
Location: 10030 Fairfax Blvd, Fairfax, VA 22030
Website: https://www.freddysusa.com
You Gotta Try: Brownie Delight Sundae, Dirt 'n' Worms Concrete
Fun Fact: Freddy's is owned by one of the last World War II veterans still living! Also, they have one of the best veggie burgers ever (one which will make even the biggest meat lover a believer)!
2.) Pitango Gelato
Location: 11942 Reston Town Center, Reston, VA 20191
Website: http://www.pitangogelato.com/
You Gotta Try: Chocolate Hazelnut Gianduja gelato
Fun Fact: Pitango hosts great gelato-making parties, so grab some friends for a sweet time!
3.) Milwaukee's Frozen Custard
Location: 13934 Lee Jackson Highway, Chantilly, VA 20151
Website: http://www.milwaukeefrozencustard.com/
You Gotta Try: Their classic vanilla custard cone with rainbow sprinkles
Fun Fact: Milwaukee have a neat car and train collection that you can check out while you enjoy your custard!
4.) Moo-Thru
Location: 11402 James Madison Hwy, Remington, VA 22734
Website: http://moothru.com/
You Gotta Try: Cookie Dough ice cream
Fun Fact: All of the ice cream at Moo-Thru is made from ingredients produced by local farmers!
5.) The Split Banana, Co.
Location: 7 W Beverley St, Staunton, VA 24401
Website: http://thesplitbanana.com/
You Gotta Try: Banana Stracciatella gelato
Fun Fact: The Split Banana has over 50 different delicious flavors of gelato and sorbet to choose from!
6.) Woody's Ice Cream
Location: 10435 North St, Fairfax, VA 22030
Website: http://www.woodysicecream.com/
You Gotta Try: Strawberry and vanilla bean twist soft serve ice cream
Fun Fact: Woody's offers weekly specials, like "Milkshake Mondays," when if you buy one milkshake, you get another for half the price!
7.) Great Falls Creamery
Location: 766 Walker Rd, Great Falls, VA 22066
Website: https://www.greatfallscreamery.com/
You Gotta Try: Good old chocolate ice cream cone
Fun Fact: Great Falls Creamery has a beautiful selection of fresh baked goods and dairy items made from pastured, grass fed cows!
8.) The Dairy Godmother
Location: 2310 Mt. Vernon Ave, Alexandria, VA 22301
Website: https://www.thedairygodmother.com/
You Gotta Try: Coffee Almond Fudge frozen gelato
Fun Fact: The Dairy Godmother has homemade marshmallows and offers treats for your pet pup (and squirrel friends)!

About the Writer
Miranda Sandoval, Staff Writer
Miranda Sandoval is a senior and online editor for the South Lakes Sentinel. She enjoys writing stories and poetry, good food, and going on adventures.