Playa Bowls: the newest and hottest place in RTC – What you need to order & know
How Playa Bowls came to be
There's a new restaurant at the Reston Town Center: Playa Bowls. Playa Bowls was created by two surfers Robert Giuliani and Abby Taylor. They started Playa Bowls after they traveled around the world and tried many different açaí and pitaya bowls. They then took all the ones they tried and decided to open their shop in New Jersey and share their favorite recipes. They get their açaí from Brazil, and their Honey is processed in Monroe, New Jersey. I had the privilege of interviewing General Manager Brendon Villacrusis.
COVID-19
Villacrusis said that they picked the Reston location because "it's a really solid location. It's right by the ice skating rink. And it is the Reston Town Center so it is booming with a whole bunch of businesses all around."
Playa Bowls had an amazing turn out on the opening day but he believes that some people were scared to stand in lines with COVID. When asked about what it's like to open a restaurant during a pandemic, Villacrusis response was that "it's tough, not only the Pandemic, but it is also very cold right now." They are taking many precautions they are taking during COVID.
Villacrusis said, "Everyone has to always wear masks, gloves are a must, employees obviously wash their hands as soon as they come into the store, and if they ever take off their gloves then need to rewash their hands." Workers are also not allowed to come into work if they believe they might have been exposed to COVID, but they may enter work again once they tested negative.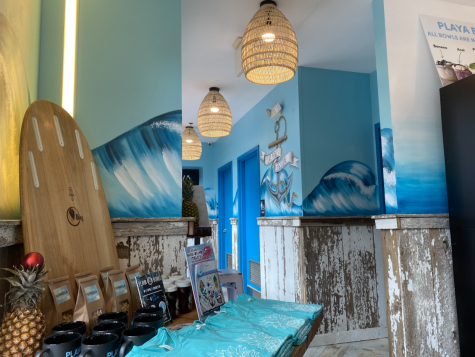 What to order
Villacrusis' most recommended order for a new customer is one of the acai bowls. I had the honor to try some of their bowls! One of them was the Pura Vida-Acai Bowl. It has a pure acai topped with granola, blueberry, strawberry and honey. I also tried the Pacific-Green Bowl, which is a kale blend topped with granola, strawberry, banana, shaved almonds, chia seeds and honey. Both of them were spectacular and I would definitely recommend them to a someone who is new to acai.
Since we are approaching the holidays, they have some limited time bowls for the season. One of their winter bowls is the Avalanche Bowl-Coconut blend with blue spirulina topped with banana, strawberry, coconut flakes and cinnamon. Another one is the North Pole Bowl, which has pure acai topped with granola, banana, raspberry, nutella, crushed peppermint and mint.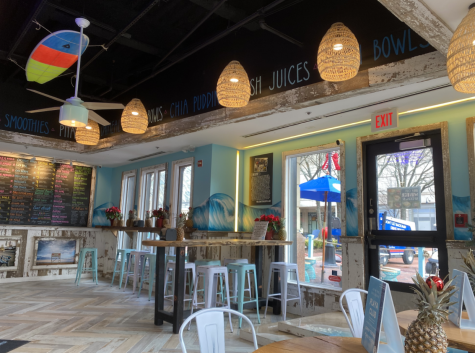 Your next trip
Overall, Playa Bowls was a great experience. The staff was super friendly, the bowls are amazing and the place is gorgeous. I will definitely be going back.
If you are a South Lakes Student and bring your ID to Playa bowl from 3-5pm Monday- Friday to get 15% off your whole order!