Recientemente, Call of Duty lanzó el aspecto de operador de Nicki Minaj. Nicki se retrata a sí misma y sus líneas de voz basándose en su obra de arte. Está disponible para comprar por 2.4K CP y aparece en un paquete. Sorprendentemente, Harajuku Barbie es la primera celebridad femenina en hacer su entrada al FPS. Minaj publicó en X, anunciando: "Queridas Barbs, hoy hacemos historia. Los libros de historia dirán que HARAJUKU #BARBIE fue la primera celebridad femenina convertida en personaje de @CallofDuty. Me siento muy honorada. Tan feliz. Fue un gran placer trabajar con el equipo #COD. ¡¡¡Mostremos!!! Con amor, Harajuku Barbie."
El paquete contiene su vehículo y su arma de fuego. Su operador puede realizar movimientos finales especiales con sus piernas y ella pelea tácticamente. Cada uno de los artículos de Nicki presenta glamurosos brillos rosados ​​que se emiten cuando están equipados. Cuando pelea, Minaj declara sus líneas de voz feroces y seguras contra sus enemigos. No es la única artista que aparece en Call of Duty, pero es la primera rapera del juego. Este paquete virtual ha generado muchas ventas y los jugadores esperan su lanzamiento en Call of Duty: Modern Warfare III. Asimismo, su lanzamiento ha atraído a nuevos jugadores al videojuego de guerra. Se espera que Modern Warfare III se lance el 10 de noviembre de 2023.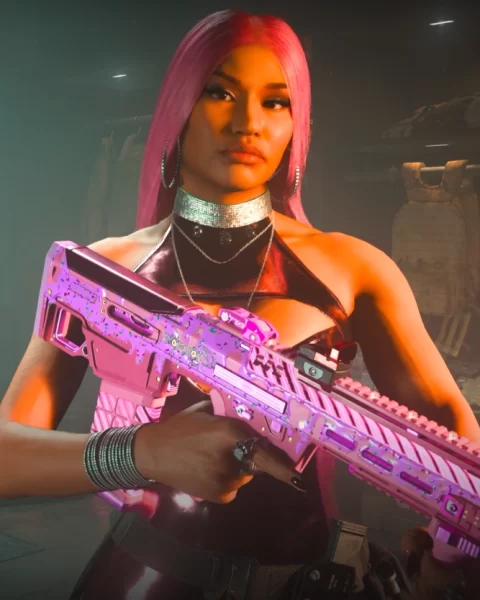 ¡Los Barbz siguen asombrados y anticipan su próximo álbum, Pink Friday 2! Su predecesor, Pink Friday, contó con 25 canciones y contó con músicos destacados en su cameo. Además, su alter ego, Roman Zolanski, es un leitmotiv, quien debutó en 'My Chick Bad ft. Ludacris'. Zolanski es originario de Londres, Inglaterra, y está relacionado con Martha Zolanski, quien desprecia sus acciones. Es malicioso y mucho menos reticente en comparación con Nicki. Se referiría a Roman como su "hermana gemela" y afirma que Roman está loco y amenaza con luchar contra la gente de manera violenta. Pink Friday 2 está programado para lanzarse el 17 de noviembre de 2023. Desde ahora, si hay una portada oficial. Hay más por venir, tanto el artista como el equipo del videojuego planean crear contenido milagroso para sus fans.
Entonces, terminando con esa nota, ¡marque sus calendarios para estos eventos estelares!
Story continues below advertisement