Holiday Sports Gift Guide
Holidays are right around the corner and these DIY gift ideas are perfect for any sports lover or athlete! All of these ideas are easy and affordable. At under $15, these DIYs are not only affordable, but they also are easy to make and look good! Enjoy these gift ideas!
DIY Custom Football Ornament
Materials
-Small Football
-Acrylic paint
-Logo of your sports team of choice
Directions:
1.Begin by painting the sections of the football with the colors of your sports team
2.Next, let the football dry and glue it on a printed-out sports logo of choice
3.Finally, attach a string around the football to make it an ornament
DIY Sports Field Bulletin Board
Materials
•Bulletin Board
•Fake grass (carpet)
•Sharpie
•Heavy adhesive glue
•Scissors
Directions:
1.Get a bulletin board (any craft store has many different sizes)
2.Measure the amount of fake grass that is needed (it depends on the size of the field being made)- it is very cheap at places like Lowes and Home Depot
If you are doing a baseball field (a tan board is recommended for this):
1.Measure around ⅓ of board and mark it
2.Make a nice, clean curve to other side of bulletin board
3.Cut out the marked grass
4.Make the cut-out piece into a square that isn't too small
5.Take the grass and cut out semi circles on corners
6.Glue that with a strong adhesive and let it sit overnight
7.Using a sharpie, draw in the baselines and batter's box (white prefered)
If you are doing a football field:
1.Measure the size of board
2.Cut out grass to fit board
3.Glue with strong adhesive and let it sit overnight
4.Use sharpie to mark yard lines and endzones(white prefered)
Sports Soak for Sore Muscles
Materials
1 ½ cups of epsom salts
½ cup coarse sea salt or himalayan pink salt
6-8 drops of essential oils
½ of baking soda
Mason jar
Funnel (optional)
Directions:
Mix the salt, baking soda, and epsom salt in a bowl
Sports Jersey Pillow
Materials
-Sports Jersey
-Scissors
-Hot Glue gun
-Pillow
Directions:
1. Cut a square just under the neckline and inside the sleeves. Make a cardboard pattern of your pillow. Lay it on the jersey square, centering the logo or numbers, and cut all the way around it, allowing a 2-inch border.
2. Add the back. For the back of the pillow, cut out the back of the jersey or use fabric that matches your décor.
3. Seal it up. Place the two pieces of fabric together, wrong-side-out.Using a hot glue gun glue three sides of the two pieces together, leaving a couple of inches of fabric outside the glue. Turn the pillow inside out and stuff it and then glue the remaining part.
About the Contributor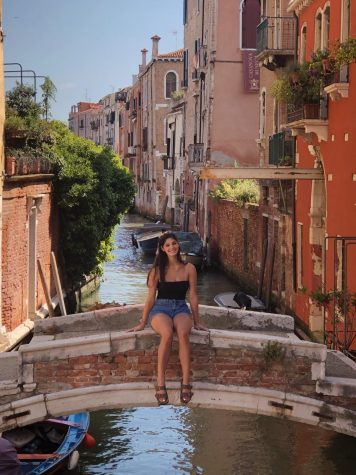 Maddy McFarlin, Entertainment Co Editor
Maddy is a senior in High School and is also a part of the South Lakes Dance Team! This is her fourth year in journalism and she is so excited to be writing...