Vaping in Virginia: As teens die, government officials are alarmed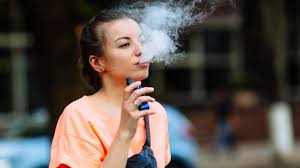 Hang on for a minute...we're trying to find some more stories you might like.
Virginia legislators recently passed a bill to raise the smoking age from 18 to 21, due to recent reports of increased rates of teenagers vaping. Some were shocked by this move from lawmakers, as Virginia's economy was greatly based in tobacco for a long time, and the capitol building is even decorated with intricate designs of tobacco leaves. However, this tradition is taking its toll on the teenage population. According to National Institute of Health (NIH), approximately 1.3 million additional adolescents vaped in 2018. Studies have found that 1 in 5 high schoolers in the US has vaped at least once, and 1 in 20 middle schoolers has done the same. Delegate Christopher P. Stolle, a physician who sponsored the bill, stated, "We adapt as we move forward, and we recognize it's something that needs to be done. We certainly are a product of our history, but I don't think we're bound by our history."
The number of teens smoking regular tobacco products is at an all-time low, however the number of teenagers who vape has doubled. This said, Virginia's teens statistically vape far less than the average American teen, at just 6.5 %, with the national average being just under 7.6 %. Regardless, the Virginia House and Senate had a moment of unity, with both passing the bill.
Deaths related to vaping have continued to occur, and they are vastly puzzling to healthcare professionals. 6 people in the US have died related to a mysterious illness as there are currently over 450 possible cases of lung illnesses tied to vaping and e-cigarettes. The Center For Disease Control (CDC) is investigating the cases, but stated that the investigations are "ongoing." They continue to investigate different components of the impact of vaping on teen health, with a reported key focus on Vitamin E chemicals.
According to the CDC, those who experience this illness are typically healthy teenagers who abruptly begin to experience chest and lung pain, difficulty breathing, and coughing. They then begin to experience more extreme symptoms such as,"Nausea, vomiting, diarrhea, fatigue, fever and weight loss." Some people have had fluid building up in their lungs that their oxygen flow is cut off, others have had lungs fully collapse, and a handful of teens have been sent into full comas.
These deaths have alerted the government at a national level, as opposed to just the state level, and the Trump administration has announced that they plan to propose a ban on all flavored e-cigarettes and vapes. While speaking to a small group of reporters President Trump mentioned the First Lady's involvement, saying, "That's how the First Lady involved. She's got a son — together — that's a beautiful young man, and she feels very, very strongly about it."
As the death toll related to vaping continues to grow, many view actions like changing the smoking age and banning the sales to be all that can be done amongst this confusing and deadly epidemic.
If you're looking to quit vaping or learn how to do so, you can get help here: https://truthinitiative.org/what-we-do/quit-smoking-tools

About the Writer
Helen Ehrlich, News Editor
Helen is news editor, assistant editor in chief, and manager of the broadcasting department. She is a staff writer and social media intern for a...