Friendship through football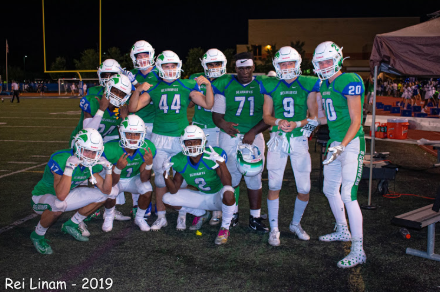 From an early age, many kids jump right into practicing a sport, whether it's swimming or soccer or something else. When kids are younger, sports get them active and if they develop a love for the sport, they learn to work hard and be passionate about something. Taking part in a sport also gives kids another way to make friends and create bonds that can last a lifetime. High school sports are no different. Seniors Joseph Dagbe and Cristian Smith have one of those very special bonds. The two have been playing together for the last four years, ever since they started playing high school football. Cristian, an offensive and defensive lineman, doesn't quite get as much recognition as Joseph, a wide receiver who was filling in as quarterback for Marcus Miles, who had been sick for the first two weeks of the season. Both players, though, are very talented, root for one another, and hope for the best for each other.
With all the hype every year surrounding football season, these two haven't let it affect their friendship. While some teammates have a good relationship on the field but little to no contact off the field, Cris and Joseph do not follow that narrative. They like to laugh and joke with each other, but sometimes those jokes stem from something that happens on the field. A few seasons ago, Joseph was waiting to return a kickoff and Cris was blocking for him. When the kick went to Joseph, Cris was looking for someone to block and as he puts it, "He is so fast that by the time I found someone to block, he ran into me." As Cris finished saying that, it was as if he said the punchline of a joke because both started laughing about the blunder.
Every friendship, though, has a crossroads that happens, such as when the seniors graduate and go their separate ways. These two haven't decided where the next step in their life will take them, but they will cherish the times they've had together and hope for the best for each other in the future. Joseph wishes nothing but the best for Cris.
"I hope that Cris finds what he's passionate about and does something that he loves. I wish that he does something not for the money or anything but because he loves doing it," he expressed.
The sentiment was mirrored by Cris. "I just want him to keep spreading his positive energy and making the world a better place," he said.
The two made it very clear that while they became friends off the field, they became brothers on the field.
"Just playing on varsity when we were younger and watching the older guys play, we really got to know not only the game better, but each other better," Joseph recalled.
Cris echoed the same message, explaining the way being teammates strengthened their friendship. "You learn to support someone and be there for someone, and we just really bonded over playing together and being on the field together," he shared.
On the surface, it seems like Joseph and Cris have little in common besides being seniors that play football. Joseph is an outgoing, positive figure that voices his opinions on social media and is known by his Instagram username "Showjoe" around the school and by people outside the South Lakes community. He's a very regularly photographed player on the team, whether that is because of the positions he plays or his stature. Cris is a very soft-spoken, quiet individual who, upon further research, does not seem to have an Instagram account, a teenager's main social media news source. He plays a position that can go unnoticed but is vital to a team's success. He lets his actions speak louder than his words, which is ironic considering his hulking figure, being much taller than Joseph. On paper, these two are unlikely friends, let alone best friends or as Cris described Joseph "brother[s] for life, no matter what." However, they each make up for the other's faults or shortcomings, which actually makes them perfect for each other.
As for the final chapter of their high school football career winds down, they are reminiscing about the past and thinking about where they are going next. When asked what they will do when they step off the field for the last time as Seahawks teammates in the regular season (November 8 vs. Herndon), they both answered with the same response: "Cry," which they said without skipping a beat, a true testament to what they mean to each other and the South Lakes community.
About the Contributor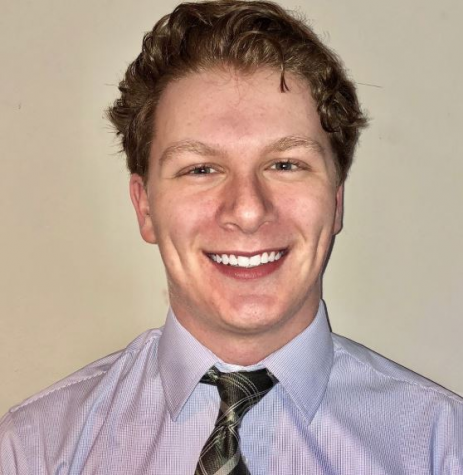 Marc Goldstein, Assistant Editor in Chief & Sports Editor
Marc is a junior this year at South Lakes High School. He is in his third year on staff, and this year, he will be serving as the Assistant Editor in Chief....