Wizards acquire Rockets Star Russell Westbrook in exchange for John Wall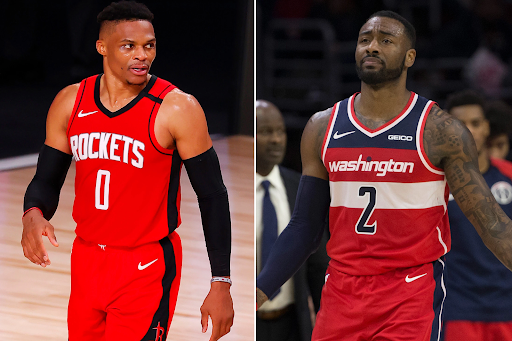 The Washington Wizards traded star guard, John Wall for former MVP Russell Westbrook. Westbrook is coming off a season in Houston where he had lower numbers than we are normally accustomed to. In Washington, John Wall was rehabbing his Achilles injury that he suffered in December of 2018.
After the long 2019-20 NBA Season, both players weren't happy with their current location and were interested in a trade. John Wall has been one of the main faces of DC during his ten-year stay in Washington. Westbrook however, only stayed for one year in Houston. Wesbrook's season in Houston is one to forget. In that one year with superstar James Harden, Westbrook and Harden were second-round exits to the eventual champs, the Los Angeles Lakers.
John Wall's presence in the DC Community has been unmatched. To the city, John Wall was more than the starting point guard. Wall has done countless things in the community such as launching with food drives as well as other charity work across the district. Wall has also created a foundation to distribute school supplies to the great DC area. John Wall to DC.
Now that Westbrook is coming to town, the Wizards will have a former MVP on their roster. Westbrook is well known as the triple-double king. Something that the Wizards lacked last year was rebounding and good ball movement. With Westbrook in command, this team should flow the way that it was supposed to.
However, it's not only going to be Westbrook who will be creating success. All-Star and franchise favorite shooting guard Bradley Beal will be his counterpart. The duo of Westbrook and Beal is not only going to be the best backcourt in the league, but one of the best duos in the entire NBA.
There are also a lot of key pieces around them. Davis Bertans, Rui Hachimura, Troy Brown Jr, Ish Smith and Thomas Bryant are all going to have key roles on this team. All good teams have a stellar supporting cast and I believe that you can put this supporting cast right along with the best.
It's going to be one interesting year in Washington. With John Wall out and Russell Westbrook in there are going to be some changes. With the same supporting cast and Bradley Beal, this team has what it takes to contend in the Eastern Conference. One thing for sure, the Wizards made a move that will not only benefit them now but in the future as well.