Taylor Swift opens up in new documentary, "Miss Americana"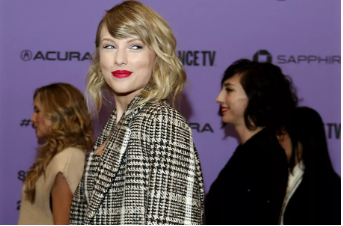 On January 31, Netflix released their newest documentary titled "Miss Americana" in collaboration with longtime singer/songwriter, Taylor Swift. The documentary was directed by Lana Wilson and shares Taylors' story, from before she entered the public eye to now. It mainly focuses on the time from her "Reputation" era to her latest album "Lover."
The film premiered at The Sundance Film Festival on January 23, 2019. At the premiere, Taylor stepped on stage, before the film played, to show her gratitude for Wilson. Taylor shared, "For so much of my life, in the public eye, when I get sad or upset, or humiliated or angry, or go through a really horrible time, I feel people lean in with this hunger. And you never did that to me," she told Wilson, "I felt like when I got sad, you did, too, and so it made all of that all right. It didn't make me feel like, 'Oh, she feels like she's got a good part for her movie now.' And I really want to thank you for that."
Taylor has been in the industry since the age of 14 when she signed with Sony/ATV Music Publishing House. She got her start in country music, at the age of 13 moving away from her birthplace in Reading, Pennsylvania to Hendersonville, Tennessee to pursue her country music career near Nashville. She's been in the public eye ever since. 16 years later, she is now revealing the reality of her past life. Swift made her transition from country to pop with her "1989" album released in 2014, after her "Red" album, which most would call a transitional album that came out in 2012. She then went on to release her "Reputation" album in 2017 where she declared the old Taylor as "dead."
In the 85-minute film, Taylor opens up about the highs and lows of not only her career, but her life behind the scenes. The tear jerking film shows a side of Taylor fans aren't used to seeing; a vulnerable singer who has tried so hard to find herself in the public eye with the judgement and hatred of others. The film is a symbol of growth and rebirth for her.
Starting at the 2009 Video Music Awards (VMA), where Swift won the Best Video by a Female Artist award for her "You Belong With Me" music video. While on stage accepting her award, Kanye West jumped up on stage and said his infamous line, "I'mma let you finish, but Beyoncé had one of the best videos of all time! One of the best videos of all time!" In an interview with ABC, Swift said that Kanye called and sincerely apologized, and that she was able to accept that apology because of the overwhelming support from "other artists and from the fans, and so many people sticking up for me." In her third studio album, Speak Now, her song "Mean" is directed at Kanye. "I think a lot of people expected me to write a song about [Kanye West]," Swift explained to New York Magazine, "But for me it was important to write a song to him." The event was like any other, it was talked about on Twitter for a while, but it wasn't long until everyone forgot about it. But Kanye West didn't forget. The feud was refueled in 2016 when Kanye released his song "Famous," where he claims to be the reason for Swift's fame and calls her an offensive term. Swift then went on twitter saying that she did not give him permission to use her name in the song, which West responded with a snapchat video his wife, Kim Kardashian-West, had taken of the phone call, showing that Taylor gave full permission. Fans then got #TaylorSwiftIsOverParty trending worldwide on Twitter. Following the backlash, Swift took a break from the public eye.
"When people decided I was wicked and evil and conniving and not a good person, that was the one that I couldn't really bounce back from, because my whole life was centered around it," Swift said.
Taylor also opens up about how she gained her voice back, in 2015. After many years of keeping silent, Taylor found herself and her voice while in a courtroom after counter suing the DJ that sexually assaulted her back in 2013 and who sued her for defamation of character for $1 million. Taylor made it clear that she didn't care about the money by countersuing for one dollar. At the end of the trial the jury found fully in Swift's favor. In the closing statement, Taylors lawyer, Douglas Baldridge, made it clear that she was an advocate for others who have been in a similar situation, "by returning a verdict on Ms. Swift's counterclaim for a single dollar — a single symbolic dollar, the value of which is immeasurable to all women in this situation."
Before the trial, Swift had stayed silent about her political views. She was fearful to speak up about her beliefs since The Dixie Chicks lead singer, Natalie Maines, made a joke about George Bush and the band was publicly shamed. After the trial though, she regretted not speaking up for the 2016 election, the election that brought Donald Trump into the White House. During the 2018 midterm election, she refused to stay silent. She sits in a room with her parents and publicist, who are concerned for safety, fearing Trump would come out swinging for her. She says "I need to be on the right side of history. And if he (referring to Democratic candidate running against Blackburn, Phil Bredesen) doesn't win, at least I tried." She posted a lengthy, but meaningful, caption against republican candidate, Marsha Blackburn, running for senator of Tennessee, and telling able followers to go out and vote. After voicing her opinion, the amount of voter registration went up and the public dubbed Swift's impact on the polls the "Swift Sway." Sadly, her impact wasn't enough. Blackburn won the election by 11 points, and Blackburn became the first female senator in Tennessee.
"She gets to be the first female senator in Tennessee, and she's Trump in a wig," Swift says, "She represents no female interests. She won by being a female applying to the kind of female males want us to be in a horrendous 1950s world. It's really basic human rights, and it's right and wrong at this point, and I can't see another commercial and see her disguising these policies behind the words 'Tennessee Christian values,'" Swift says, getting emotional. "Those aren't Tennessee Christian values. I live in Tennessee. I am Christian. That's not what we stand for."
Following the documentary's release, Swift released the song she wrote after the election, titled, "Only the Young", telling her audience that "if you can just shift the power in your direction by being bold enough, then it won't be like this forever."
Swift also reveals her past eating disorder. Saying that she couldn't look at paparazzi photos because she would see one bad photo and would "starve" herself to meet the "impossible standard of beauty." She also admits that at the time she wouldn't have admitted it was an eating disorder. Her eating disorder and self confidence issues all seemed like nothing after her mother was diagnosed with cancer in 2015. Asking herself the question, Do you really care if the internet doesn't like you today if your mom is sick from chemo? On her newest album, Lover, she wrote the song "Soon You'll Get Better" for her mother. The song features the Dixie Chicks. She now continues to not look at photos of her and if she accidentally falls into a spiral she tells herself, "Nope. We don't do that anymore. We do not do that anymore. It's better to think you look fat than to look sick."
On the brighter, happier side of the documentary, she shows the making of her newest album "Lover." Showing her recording with Panic! At the Disco singer, Brenden Urie, for their collaboration song "ME!" Also shows her writing the songs featured on the album. She also revealed why she hid her relationship with boyfriend, Joe Alwyn, for three years. Saying that their relationship started while she was on her internet hiatus after her feud with Kanye West was reignited in 2016. Her relationship with Alwyn will remain out of the public eye.
"I figured I had to reset everything," she says of her time following the feud. "I also was falling in love with someone who had a really wonderfully normal, balanced, grounded life."
Taylor Swift has proven to not only the world, but herself, that she isn't afraid to say what she believes in anymore. She finally feels like she is in control of her life and is the happiest she's been in a long time.
About the Contributor
Rhea Braganza, Staff Writer
Rhea Braganza is currently a senior at South Lakes High School. She is a staff writer for the Sentinel. She writes for news and opinion. She enjoys spending...