2022 Book recap
I, like many other people, started to read a lot of books during the pandemic. There was nothing much to do, so I decided to busy myself with books. This hobby stuck with me even after the pandemic. During 2022, I've read multiple books, but here are some of my favorites:
The Inheritance Games Trilogy by Jennifer Lynn Barnes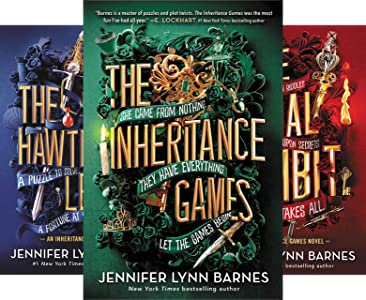 When Avery Grambs, an average high school student, receives summons for the will reading of the dead billionaire, Tobias Hawthorne, she can't believe it. Especially when one of his four grandsons comes to fetch her. Once it turns out that she has received all of his money, her whole life changed. She doesn't even understand why this is happening to her, and neither does his family. She teams up with two of the grandchildren to find the answer: why her? This trilogy is one of my favorite mysteries. All of the twists and turns had people yearning for more, especially since readers had to wait almost a year in between the second and third book.
Shadow and Bone Trilogy by Leigh Bardugo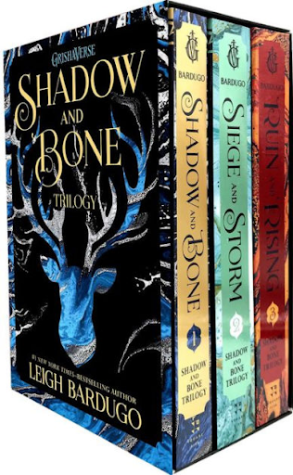 Alina Starkov, a simple girl working as a mapmaker in order to be close to her best friend Mal, who's working in the military. Suddenly her whole life changes when she discovers her special Grisha power, which has never been seen before. Now she's separated from Mal and has to adapt to her new life in the palace and as a Grisha (a person with powers). This fantasy trilogy has a simple and basic plot, but it still manages to keep your interest. These books have become so popular that a Netflix show was created, with a second season coming March 16, 2023.
Six of Crows Duology by Leigh Bardugo
=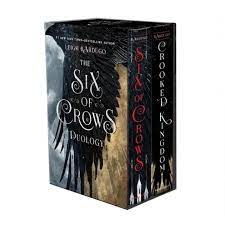 This book centers around the main characters Kaz, Inej, and Jesper, who work for one of the many gangs in Ketterdam, a small port city on the island of Kerch, known for international trade. Here they team up with Nina, Mattias and Wylan, as they all plan for a deadly heist which would set them for life, but will they survive long enough to even receive the money? This duology takes place in the same universe as Shadow and Bone, but the plot is completely different. These books are more fast paced and are for slightly older audiences, in my opinion, as it seems relatively more mature then Shadow and Bone despite having the same age rating. Six of Crows is also more complex to understand because of the confusing plot and it unravels quite quickly, which causes the reader to question exactly what they read.
A Good Girl's Guide to Murder Trilogy by Holly Jackson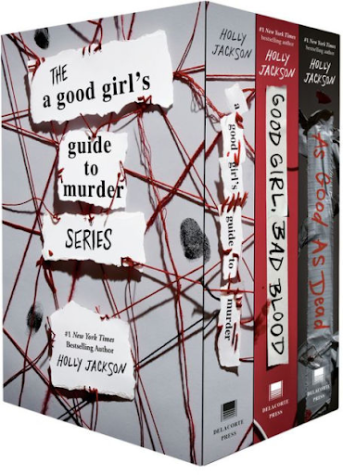 When Pippa has to start her senior project, she knows she has to revolve it around the mysterious death of Andie Bell. According to the police, Andie was killed by her former boyfriend, Sal Singh who killed himself to avoid prosecution. Everyone is warning her against it, claiming the case is already solved, but Pip knows better. She teams up with Sal's brother Ravi to solve the case and clear Sal's name. While investigating, dark secrets are uncovered and someone is trying to stop Pip from digging too deep. This murder mystery novel is a great read if you want something quick and fast paced. It's an exceptionally great book for fans of the mystery genre. The first book can be read as a standalone, but if you, like many others, want to know more about Pip and Ravi, then keep reading the rest of the trilogy.
The Cruel Prince Trilogy by Holly Black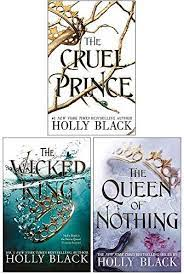 Young Jude Duarte witnesses her mother being killed. Even worse, her and her sisters are being taken away by said killer and forced to live with him. 10 years later, she only wants to fit in as a human living in this faerie world. She'll do anything, and everything to belong. Jude discovers her talent in manipulation, murder, and trickery. She ends up putting her talent in good use in this political fantasy novel. Once you finish the first book which ends in a cliffhanger, you will be craving for more.
Shatter Me Series by Tahereh Mafi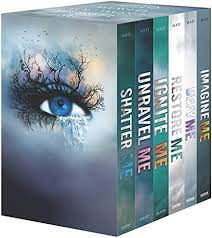 Juliette has been locked in an asylum for 264 days, all because she accidentally helped a little boy up from the floor. It wasn't her fault that little boy died then and there, well not really. Juliette touch is lethal to everyone, well, every person except two. She gets taken out of the asylum by Aaron Warner, but she doesn't know what to think of him. She also meets a guy named Adam who works for the military and later escapes with him. She surprisingly finds out her touch isn't deadly to Aaron and Adam. This dystopian novel will keep you on your toes, longing to know more. This series is one of my all time favorite reads, and I hope you'll read it too.