Sophomores victorious during Class Color Day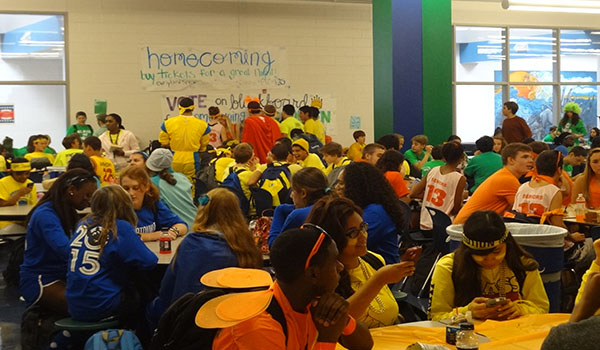 Rachel Rogers, online editor
October 10, 2012
Sophomores shocked the school when they won first place during Class Color Day, securing a two day total of 40 points and a second place position in the race for most spirited class.
Seniors took second place, a step down from their first place sweep during Opposite Day. They rank first place overall with a total of 50 points.
"I think it's kind of ridiculous because it looked to me that every senior was wearing orange," senior Rachel Ravencraft said. "I kind of get it because blue is such a common color that I think everyone has it, so it's really easy for sophomores to get credit for it. For orange it's a more of an obscure color so you have to try harder."
In another upset the freshmen class beat out the juniors for third place, raising the class's total to 15 points.
Juniors took home last place in the Class Color Day competition, maintaining third place overall and a twenty five point total.
"I think we could definitely pump it up," junior Caitlin Ferzoco said. "I also think that we do have lots of spirit and we want to win. We just have to keep on trying harder."
Class Color Day originally began during a time when each sub school was painted a different color. The senior sub school was orange while the junior locker pod was yellow. The sophomore and freshman sub schools were painted blue and green respectively.
Though blue and green serve as the official school colors students still wear orange and yellow in remembrance of the original colors of the four different grades.
 "Class Color Day is all about who has more spirit," sophomore Clay Mickiewicz said. "It's about who's more dedicated to their class and who cares about their school."
Tonight, the class rivalries will culminate with the annual Powder Puff football games. Freshmen battle the sophomores at 6 p.m. and juniors face the seniors at 7 p.m.
Tomorrow, students should wear clothing from around the world in celebration of International Day.