Giannis Gunning for MVP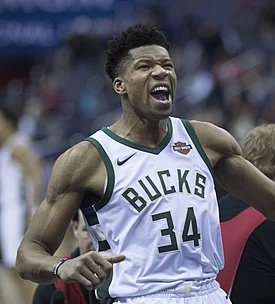 Joseph Brotemarkle, Staff Writer
February 7, 2019
Hang on for a minute...we're trying to find some more stories you might like.
Giannis Antetokounmpo, the Milwaukee Bucks' star forward, is in the lead for the NBA's most valuable player. He is currently in front of James Harden, LeBron James, Kawhi Leonard, and Steph Curry.
Antetokounmpo – also known as the "Greek Freak" – was born in Athens, Greece and got drafted into the NBA. He first appeared in the NBA all-star game in 2017, making a name for himself as one of the most dominant players in the league. From here, his reputation and level of basketball intensity only increased, eventually leading him to become the beast of a player that he is today.
Basketball fans, however, are split over whether they think Giannis will be the league MVP or not. South Lakes freshman Sean Caceres, a Wizards fan, does not think that Antetokounmpo has "earned" MVP. He said that Antetokounmpo is "good, but he isn't good enough to be called an MVP, considering all of the other great players in the league." However, other fans believe that it's time the Bucks' star forward got recognized for being such an elite player.
Whether you agree or disagree that Giannis Antetokounmpo should be MVP, one thing still stands true: Antetokounmpo is here to play, and here to stay. He may or may not deserve an MVP trophy, but if he keeps it up, he'll someday have one without contest.