Ravens end Patriots' undefeated season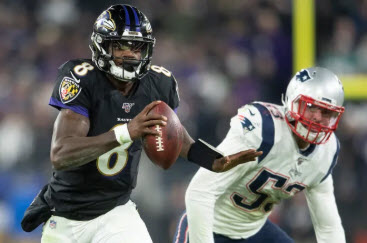 Although the Ravens may have been off to an average start with their 2-2 record, they have shot up to being one of the better teams in the NFL, with a 6-2 record after a 4 game win streak. However, the Patriots team, like usual, feels pretty confident about their Super Bowl odds, backed by their Hall of Fame quarterback, Tom Brady, and one of the greatest head coaches of all time, Bill Belichick.
With the Ravens (6-2) and the Patriots (8-1) this game didn't seem too out of the ordinary, with the Patriots being favored to win and expected to continue their perfect season. That was until Lamar Jackson exploded by throwing more than 200 yards with 3 touchdowns, giving the Ravens the upper hand. Their defense held the Patriots to a lower score than they usually allow per game. The Ravens' average opponent score is 22 this season coming into this game.
One of the reasons for the Ravens success this week against the Patriots could have been their extra time off, because the Ravens had a bye week before this game against the Patriots. A bye week describes when a football team doesn't have to play a game during a particular week. For example, the Ravens' bye week was week 8 of the season, so they didn't have to play for 2 weeks. This time is very helpful for the recovery of the athletes, mentally and physically.
With the Patriots losing their undefeated season, the only team remaining with no losses is the San Francisco 49ers. However, the perfection in the regular season doesn't always transfer into a winning team in the playoffs. The 2007 Patriots for example, had a perfect regular season going 16-0 and won their first two playoff games, making them 1 win away from the unheard of 19-0 season. However the Patriots lost in the Super Bowl to another star quarterback, Eli Manning. This loss proved to be as frustrating as it was unexpected, while also proving that a perfect regular season doesn't always mean a Super Bowl victory.