A state of unrest – The DMV experiences historic protests for the Black Lives Matter movement
Following the killing of George Floyd, an unarmed Black man, by a police officer Minneapolis, Minnesota, protests erupted around the United States and world. Centuries of systemic racism and police brutality boiled over, as activists took to the streets to march against the oppression that Black people face in the United States.
With the introduction of police and the instatement of curfews, protests turned violent. Washington DC became the world's focus as flames, fury and a flurry of presidential Twitter activity engulfed the region.
Richmond also struggled with violence from the police, turning peaceful protests into tear gas filled swarms of panic. Hundreds of protestors took to Virginia's capital, calling for justice. Virginia has the most Confederate statues in the United States, and protestors were trying to remove some of these tangible remains of the state's legacy as the capital of the Confederacy, by attempting to pull down statues on Monument Avenue.
#RICHMOND #VIRGINIA peaceful protest attacked. pic.twitter.com/saxfBeDkAn

— JUST ADD AGUA (@Justiceaddwater) June 2, 2020
Richmond's protestors requested that the police presence in the community be demilitarized. Demands were heard by Mayor Stoney, though violence did continue later and no government action was taken. Mayor Stoney stated, "What could have been peaceful protests, turned into violent destruction," before instating a curfew.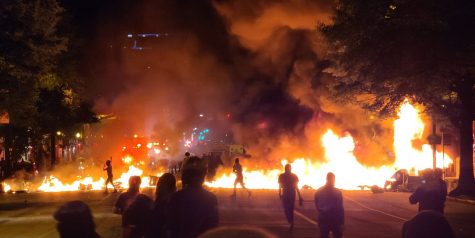 Raising their fists in the air, activists in DC demanded justice for George Floyd and reforms to the system. Reports state that only when officers began to storm into Lafayette Square, did the violence begin. Officers sprayed tear gas and shot rubber bullets, as demonstrators took to the streets.
A South Lakes student who protested four days ago shared that "it was a very powerful experience and I felt so much unity. We were peaceful until the National Guard started cornering us and tear gassing, we still stayed relatively peaceful. It was clear the police didn't care, many were smiling and laughing at us." The student shared that they were inspired to protest because of their personal status as a minority and their experience losing a family member to police brutality, leading them to "stand in solidarity with the Black community." They stated, "I'm very passionate about not enjoying the police and stopping racism."
On the third day of protesting, looting increased at night as St. John's Church began to burn. Protestors defied curfews and gathered in front of the White House. The Trump family was briefly relocated to a bunker as the White House went dark.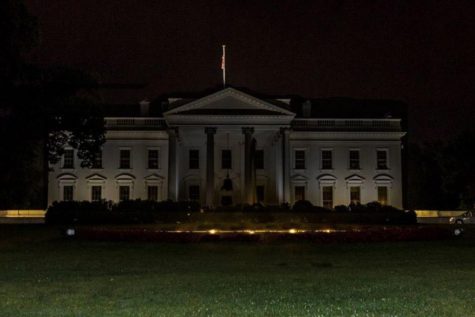 Fairfax County Delegate Ibraheem S. Samirah was tear gassed at the protests in DC on that third night. Posting a video on social media, Samirah expressed his outrage with the system, and the temporary blindness that he faced as a result of being tear gassed by police. Samirah visited South Lakes in October of 2019, where he discussed his background as a protestor in both the US and Jordan (read more here) – On Twitter, Samirah stated, "These scenes of authoritarianism were coming out of DC last night, not my motherland."
I represent the DC area in the Virginia House of Delegates. Last night, the police tear gassed me anyway. (1/5) pic.twitter.com/dc4B2JXHLm

— Del. Ibraheem Samirah (@IbraheemSamirah) June 1, 2020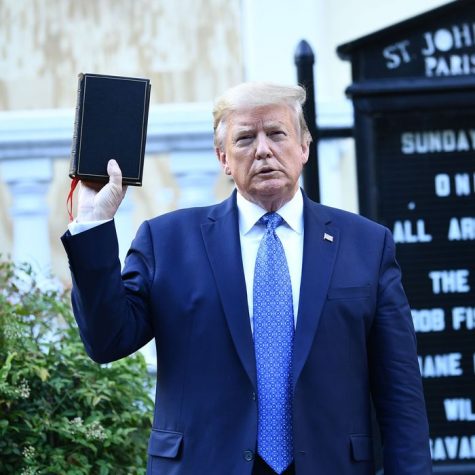 On Monday, June 1, 2020 President Trump walked to St. John's Church for a photo op. Peaceful protestors were tear gassed in order for him to take these photos. He stood, Bible raised in the air in front of the church to take photos for 17 minutes, before leaving. "He did not pray. He did not mention George Floyd, he did not mention the agony of people who have been subjected to this kind of horrific expression of racism and white supremacy for hundreds of years," stated the church's Bishop Mariann E. Budde, who says she is "outraged."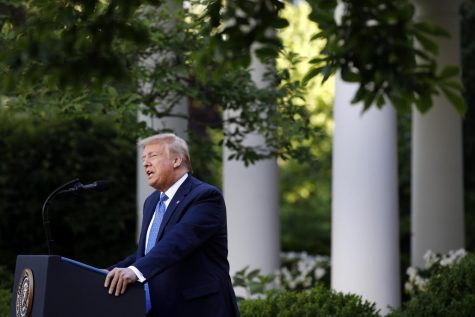 Later that day, standing in the Rose Garden, Trump addressed the nation for the first time off of Twitter since the beginning of the international unrest. Invoking one of his 2016 campaign phrases, Trump called himself "your president of law and order." Trump said he is mobilizing "thousands of heavily armed soldiers," and pledged to utilize federal resources if necessary. He declared, "If a city or state refuses to take the actions necessary to defend the life and property of their residents, then I will deploy the United States military and quickly solve the problem for them." This is a threat to utilize the Insurrection Act, which is a federal law from 1807 that allows the president to deploy US troops against citizens.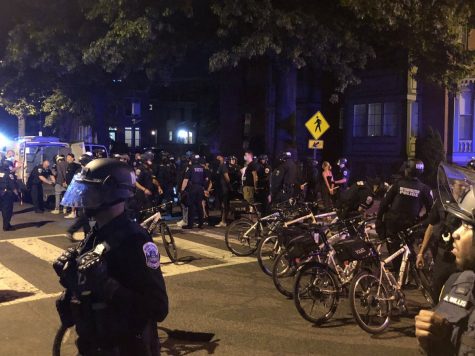 Curfew increased tensions in the District. One group of protestors was cornered by officers until a homeowner in Dupont opened his house up. The private homeowner said that he opened his doors after witnessing the protestors be "absolutely decimated and beaten on the steps of my house." The residence was monitored by police all night, but no arrests were made at 6 A.M. when the curfew ended and the activists dispersed.
Protests continue to occur throughout the country and world.
If you or someone you know has been involved in protests in DC and is in need of legal assistance you can visit: https://www.legalaiddc.org/
About the Contributor
Helen Ehrlich, Editor-In-Chief
Helen is News Editor, Editor-In-Chief, founder and manager of the broadcasting department. She is the head manager of the Sentinel's social media. She...