VA Delegate Ibraheem Samirah visits the South Lakes Young Democrats club: Protest, politics & progressive change
Virginia Democratic Delegate for Herndon Ibraheem Samirah came to visit the South Lakes Young Democrats club on Wednesday, October 24. He spoke about his story, personal beliefs, plans for Virginia and interacted with members of the South Lakes community. His messages were inspiring and his passion for politics and bettering Virginia was evident.
In 2018 Delegate Samirah gained national attention (and Twitter followers, as he joked) when he protested at a speech President Trump was giving in Virginia. He explained that he wanted to make a bold statement against President Trump. He shared how it was striking how President Trump has discredited the media, and how that makes every speech even more impactful. Delegate Samirah stated that President Trump simply "does not represent what the next 100 years of Virginia is supposed to look like."
Delegate Samirah started his time with the Young Democrats by sharing his experience growing up in Chicago, being forced to move to Jordan as a result of the PATRIOT Act after 9/11 and going on to the prestigious American University. He talked about how being in the Middle East for high school, during a time of youth power, encouraged his sense of community and belief in bettering things. He shared that it "put in me a really high level of energy." He talked to the club about the importance of holding on to the things that matter at a young age, saying, "Believe in the ideas that you have. They will stick around for a very long time."
Delegate Samirah spoke about the importance of the upcoming state election (you can read my further breakdown of that here), what it means to be a progressive candidate, limiting gerrymandering and ensuring fair census data. He pointed out about that big issues like climate change are all "state level politics at the end of the day" and need to be tackled from the local level, saying, "We have so many things that we can be doing with state government."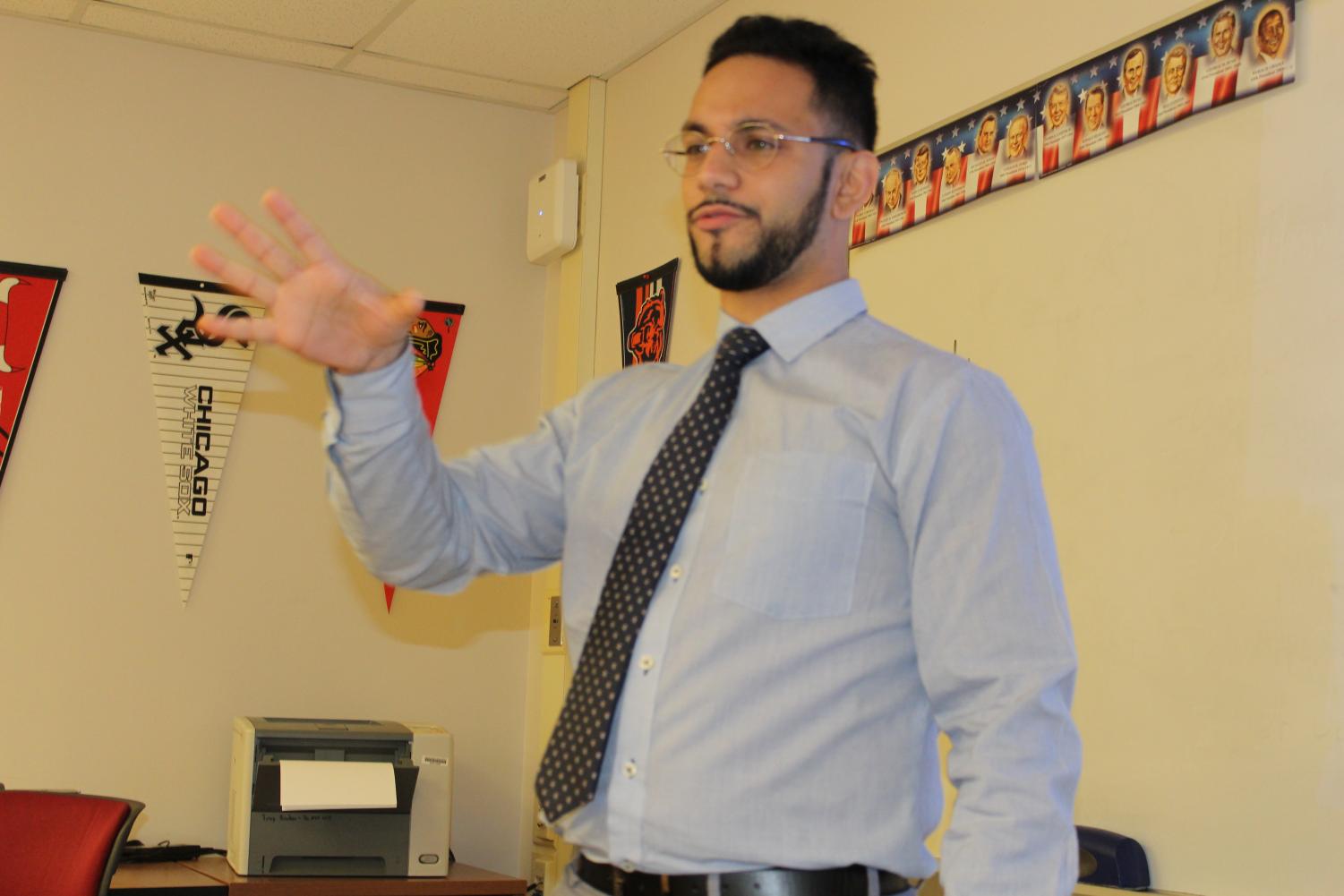 When I asked him what the most frustrating thing about politics has been for him he explained that there is a "Virginia way." He said that people in Virginia have a habit of wanting to gloss over and not acknowledge uncomfortable subjects. He pointed out that we need to talk about the imperfect things even with the risk of making things awkward, saying with a laugh, "It's pretty awkward that people aren't living well." He explained that he wants to focus on making positive and inclusive change, "I want to build the future of Virginia."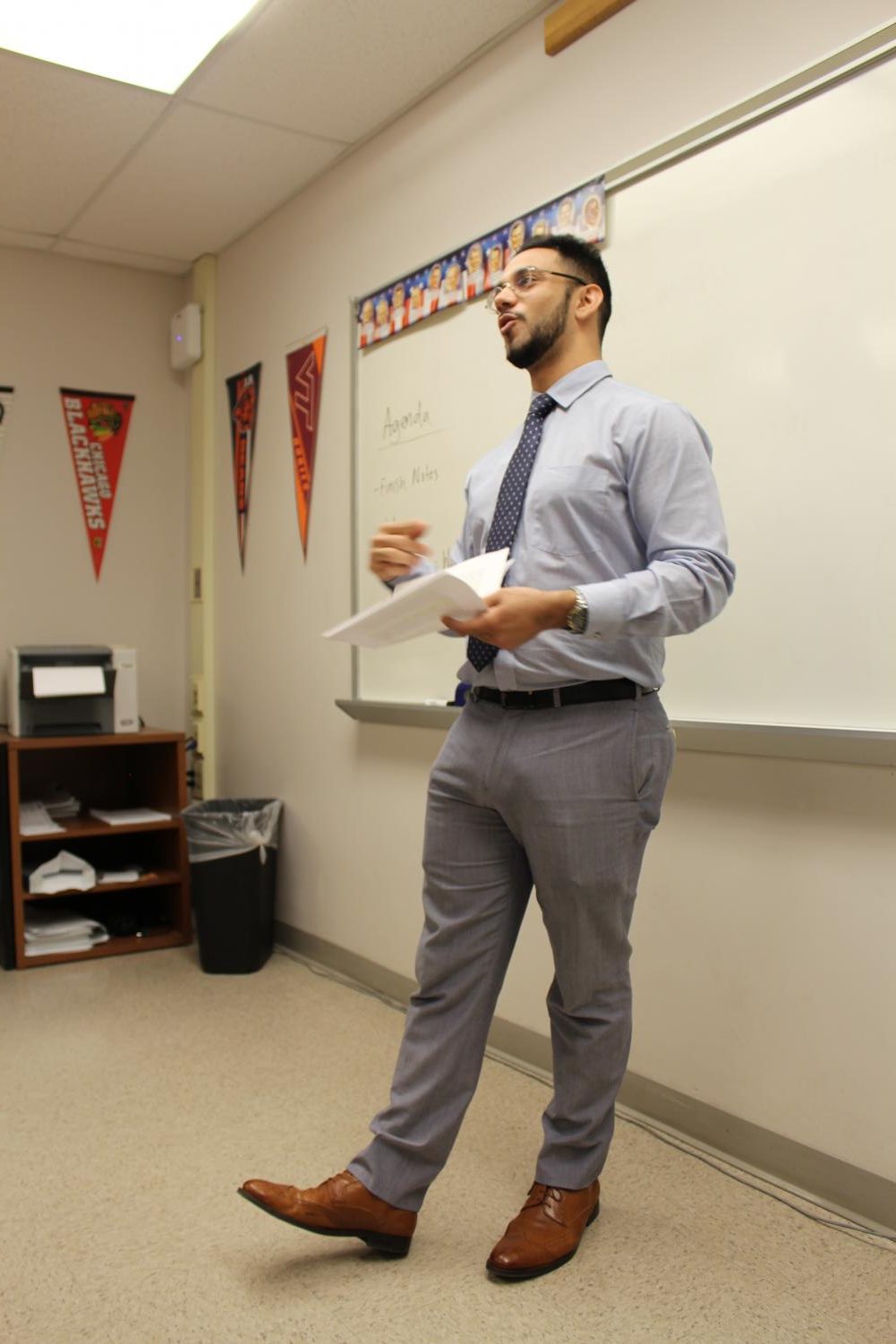 A coach stood at the back of the classroom observing for a portion of Delegate Samirah's time speaking. He stepped forward to pose a question about trans athletes, asking, "Should they be allowed to participate?" Delegate Samirah smiled and said, "Of course. Of course they should." Delegate Samirah talked about how we need to "go back to the human being" and recognize that it's time for systems to change, explaining that they were rooted in sexism. The coach continued to protest as he and Delegate Samirah respectfully spoke, though each were firm in their beliefs. Delegate Samirah agreed that "it's a complicated scenario" and handled the discourse with ease and grace, exemplifying the understanding and collected demeanor politicians have to possess. Eventually the coach smiled before saying, "We're going to have to agree to disagree," and leaving.
As a young and newly elected delegate his plans are fresh and his views are unique. At just 28 years old, he was able to discuss the importance of generational differences with the club, sharing, "Clearly our generation has a different mindset. We want to do things a little differently." He was optimistic about the power of the new generation, saying defiantly, "It's up to us to redefine patriotism." With a tone that was a mix of apologetic and hopeful, he looked out at the room and declared, "It's up to our generation."