South Lakes Girls Basketball Ready for Any Challenges
The sense of urgency is inversely moving up as the time to the season continues to tick down. Coach Christy Winters-Scott returns a team with a gaping hole in the middle. Brianna Scott, the former Seahawks star, has graduated and moved onto Georgetown. Following an exit in the Regional Tournament, the Seahawks are back for another run at the title that has eluded them for years. This season contains new challenges and struggles, but also a revitalized sense of hope and motivation going into the season.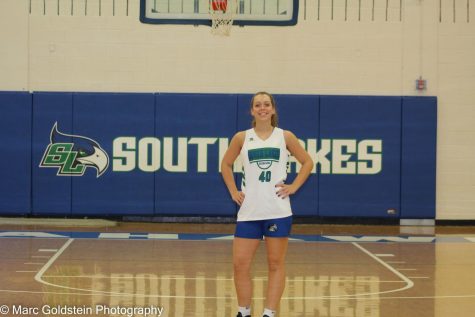 While the senior class from the previous season might be one of the most notorious ones in program history, the class of 2022 boasts a lot of overall talent and balance. Senior Erin Barr says, "We are a really well rounded, tough team. We are all very close and have great chemistry, so we really know how to play with one another." The idea of camaraderie is often reiterated and clearly something that has been emphasized throughout the preseason. Fellow senior Nava Mehrpour echoes the statement, "We have a very new team with a lot of players who have not played on varsity very much. I think it is very important that we play together. In fact, we are already doing that. We have incredible chemistry, and I hope it translates to the season."
Talking about the new players on the roster, Daisya Brown, another senior, has a similar opinion. "I think that we have a lot of younger players here that are ready to step up. I know that our chemistry will be something that will be a big help for us this year. I know it will be tough to replace some of the seniors, but we want to do the best we can," she details.
Another massive storyline coming into this season is the fact that the Seahawks are now in the Concorde District. For basketball, this district is full of talented, well coached teams. Almost each of them have made deep runs in the postseason in recent years. Erin talks about the challenges and how they will be overcome, explaining, "I think that while the teams are a lot different than (Liberty), we still have the same expectations. If we play together and with a team mindset, not trying to do our own thing, we will be very successful."
Coach Winters-Scott thinks that one of the most important things to know about the Concorde District is the familiarity within. "A lot of these teams (in Concorde) are the teams we face in Regionals every year. I think that it is a challenge certainly, but also something that we are looking forward to. A lot of these teams return their players and we want to go into every game with a 'playoff mentality,'" she elaborates.
However, between the new district and the new players on the roster, there is still no evading possibly the biggest storyline this season. Brianna Scott was one of the best players to have come from the program since her mother. Brianna averaged double digits in both points and rebounds, as well as multiple blocks per game. Her mother, coach, and biggest supporter offers her input on what the team outlook is without her, "I don't want this season to be about Brianna. I am so proud of her, and will be supporting her (at Georgetown), but I want to focus on this year's team. That being said, I don't think there will be an easy way for us to make up for her production. Especially on the glass, she will definitely be missed. I doubt that we will be able to replicate her production with one player, but we will need to have a lot of players step up… A lot of our players now have a year of experience and have learned a lot and refined their skills."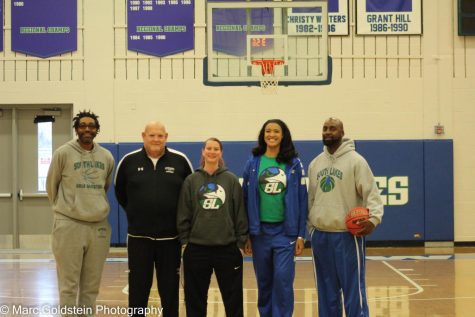 Following up on what Coach Winters-Scott said, associate head coach, Dwayne Braxton, a former basketball player in his own right, is also very optimistic. "We are always very positive coming into this season. We know how hard the girls have been working this offseason. We have a great nucleus of players who played with us last year. Obviously, we lost a lot of talent, but a lot of the players who are here are ready to step up and have even bigger roles than last year. I think they are all ready for new leadership roles and to lead us throughout the season," he describes.
Coach Braxton, like many other members of the team and coaching staff, exude confidence and excitement heading into the new district. "I think that the challenge will really help us a lot down the line. Come postseason time, we will have played a lot of good teams, so that really helps. I think that going against Madison, the two time defending state champs, will be something that benefits us. Also, the team has done a great job this offseason, we just need to get into the swing of things. Once everyone knows their role and executes, we are in a good place," he says.
Regardless of who the Seahawks face this season, the mentality is going to be the same. They want to approach each of their opponents with complete and utter focus. From the coaching to the actual players on the court, the team preaches preparation and solid, balanced play. As it was explained by Coach Winters-Scott, the team will not have a singular player replicate the production they lost, but the team effort will allow the Seahawks to soar to new heights in a new situation.