Fairfax County goes fully online for the fall – What are other DMV schools & universities doing?
After weeks of debating, pushing back against federal attacks, fielding petitions and Facebook groups, Fairfax County Public Schools (FCPS) has decided to send students back to school digitally. After Superintendent Brabrand recommended a virtual fall, due to continued case spikes in Virginia and around the United States, the FCPS School Board informally (they did not vote) agreed to allow all students to go online. Class schedules/general assignments will be released on September 2, 2020, as FCPS had pushed back the August start time.
Teachers doing a drive-by protest at Fairfax County Public Schools headquarters. They want an all-virtual start to the school year, and it looks like they may get their wish. Superintendent just announced he will recommend that. School board will still have to vote. pic.twitter.com/3MJRo5SiHg

— Tom Roussey (@tomrousseyABC7) July 21, 2020
Loudoun County, DC Public Schools, Arlington Public Schools and Montgomery County Public Schools will also be opting to go fully virtual, similarly scrapping their hybrid option. Arlington Public Schools were the first to switch fully online, as they also prepare for a virtual fall.
Many private schools in the DMV will be returning with an in-person approach. Flint Hill's elementary and middle schools will be continuing with five-day weeks in distanced classrooms and with smaller class sizes. Flint Hill's high school will do hybrid learning (in-person two days and virtual three days), with staggered grades. Madeira High School will be returning in the fall but requiring distancing, face masks and health training before beginning classes. Paul VI is opting for a hybrid approach, and continuing to bus students, as it moves to Loudoun. The Potomac School will be returning students and providing recorded lectures to students who are at a greater risk. St. Andrew's Episcopal School will keep all students learning remotely. Wealthier and smaller schools are presented with more opportunities, when compared to the hundreds of thousands of students from a range of economic situations who attend Fairfax County's public schools, especially considering FCPS overcrowding issues from before the pandemic. Montgomery County had placed a ban on private institutions reopening, but has since rescinded the restriction.
All universities in Washington DC will be having a virtual fall. Christopher Newport University has postponed their start date, cancelled their fall break and opted to have final exams online after Thanksgiving as students are on break, while they "asked to take steps to protect their own health and the health of those around them" during their time on campus. George Mason University, South Lakes' closest neighbor, will be randomly testing students throughout the year and requiring COVID testing and self quarantining, prior to arriving for the fall. James Madison University will be returning students to campus, but carrying out daily health screening questions, requiring masks and asking that students social distance. Liberty University will be returning students to school fully, and only changing to adhere to mandatory state guidelines. Old Dominion University will be cancelling their fall break, offering in-person and online learning and "will employ campus-wide COVID-19 testing procedures." Radford University will be returning to campus with 24% of classes online, teachers will be given the option of standing behind a partition and students are asked to wear masks. The University of Richmond will be offering remote learning and returning students to campus, after they self-isolate for 14 days. The University of Virginia will be returning students to Charlottesville in the fall, but they must supply a negative COVID-19 viral PCR test, and they are "encouraged" to self-isolate prior to returning to campus. Virginia Commonwealth University will be establishing temperature checks kiosks (50 total) around campus in Richmond, they will enforce social distancing using barriers and they will require students to submit a COVID-19 test before returning.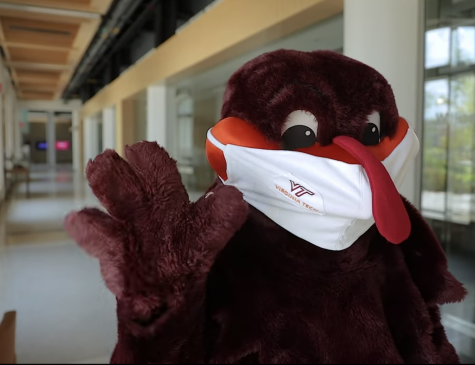 Virginia Polytechnic Institute and State University (Virginia Tech) will be encouraging students to study and learn outside by improving outdoor internet, they will be asking that students get tested during the move-in period in August, they are "expected" to self-quarantine for two weeks and testing is not mandated for those living off campus. Washington & Lee University is launching a testing "task force," screening students and quarantining them for 14 days upon returning to campus and offering a virtual option for those who remain remote. Virginia State University will be keeping all students online for the first month of the fall semester, and then reevaluating and moving forward. William & Mary will be offering virtual options and returning, but removing the fall break, requiring that all students get tested before returning to campus, mandating isolation for those who test positive and 5% of the student body will be tested throughout the year.
About the Contributor
Helen Ehrlich, Editor-In-Chief
Helen is News Editor, Editor-In-Chief, founder and manager of the broadcasting department. She is the head manager of the Sentinel's social media. She...