US Secretary of Education attacks FCPS – Battle lines are drawn as public education faces the fall
Besty Devos has been slamming public schools and lobbing threats at non-private institutions since assuming the role of US Secretary of Education in 2017. Devos has now taken an interest in defunding public schools that don't send all students back in the fall, and she's looking directly at Fairfax County Public Schools (FCPS).
With the most COVID-19 cases and deaths in the world, the United States is struggling to resolve how to return the nation's youth to schools in the fall. While institutions around the world have gone back, their case numbers are staggeringly lower than that of the US. President Trump has stated that students should return fully in-person in the fall, regardless of the continuing rise in COVID-19 cases. Trump has threatened to cut funding to public schools that do not completely allow students to return. The CDC warned that returning fully poses the "highest risk" of spreading the virus. He doubled down on his belief, after sparking controversy by tweeting, "In Germany, Denmark, Norway, Sweden and many other countries, SCHOOLS ARE OPEN WITH NO PROBLEMS. The Dems think it would be bad for them politically if U.S. schools open before the November Election, but is important for the children & families. May cut off funding if not open!"
Cutting public school funding is not legally possible for a president to do, as the president does not possess this ability. Congress would have to support this move, as it is the branch with the power of the purse. The House has continually rejected all legislation of the sort. The federal government only provides less than 10% of all funding to schools. Special education programs and Title 1 Schools use the bulk of funding provided by the federal government, so the threat of losing this funding would slam the most vulnerable sectors of public education.
This is not the first time that Trump has attempted to cut federal financing of public schools, as he attempted to cut $8.5 billion from the Education Department budget in 2019. Devos is a massive proponent of private and charter schools. Most infamously, she attempted to approve the use of education grants to permit guns in public schools and claimed that guns are necessary for students to protect themselves against grizzly bears.
There have been attempts to reroute during the pandemic. The Coronavirus Aid, Relief, and Economic Security Act (CARES Act) includes $30 billion for educational institutions. Devos then published changes to the interpretation of the policy, allowing private schools to apply for aid based on the number of students currently enrolled, and not based on the number of low-income students. Public schools must use the low-income formula when applying for aid. Representative Bobby Scott (D) from Virginia's 3rd congressional district, who is chairman of the House Education Committee, stated, "…The Department's new rule still forces them to divert valuable resources intended for low-income students to serve private school students, regardless of wealth."
Devos, a fierce Trump loyalist, has backed Trump's stance on this issue. Lashing out against the two options available (read more here) to FCPS families, Devos said,"These are not valid options and choices for families and it's not full-time instruction." She also labeled the spring version of online learning as "a disaster." Devos later stated, "Ultimately, it's not a matter of if schools should reopen, it's simply a matter of how. They must fully open, and they must be fully operational."
FCPS Superintendent Dr. Brabrand responded to Devos, saying, "This is the American Dream, American public education. We're here to offer it to all of our students and families, and those that would critique it, I don't think have the best interests of public education and of the United States at heart." Brabrand explained that FCPS would need five buildings the size of the Pentagon in order to return all students. He said that students are typically only 18 inches away from each other, so in order to properly distance students FCPS would need an additional 200 buildings. Brabrand shared that students will wear masks and remain with blocked groups of students, but said that as the 10th biggest school division in the U.S. "you can't put every kid back in a school with the existing square footage footprint. It's just that simple."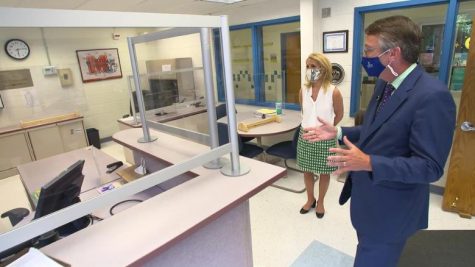 Devos is seeing some support in the community. While Fairfax County is seen as a very liberal area, there are strong communities and pockets of conservatism. These groups are rallying and forming Facebook groups such as "Open Fairfax County Schools" (596 members) and "RE-OPEN FAIRFAX." (202 members). One of RE-OPEN FAIRFAX's two administrators is Alice Butler-Short, the founder and president of the Virginia Women for Trump chapter. The other administrator is Alana Sypsomos, who describes herself as a "homeschooling mother" on her personal Facebook profile. The bio of the RE-OPEN FAIRFAX account states exactly as follows: "We aim to return to normal, and NOT the 'new normal'. REAL normal. Then we will continue to labor towards an even brigther tomorrow creating a BETTER normal for liberty to flourish. Where ther'es a COVID-19 today, there's a COVID-20 tomorrow. We CANNOT let this happen again," and asks readers to "'like' our linked page 'Virginia Women for Trump'."
As Fairfax County works to deal with the complexities of reopening 196 schools during a pandemic, attacks from the highest levels of leadership intensify tensions in the community.
About the Contributor
Helen Ehrlich, Editor-In-Chief
Helen is News Editor, Editor-In-Chief, founder and manager of the broadcasting department. She is the head manager of the Sentinel's social media. She...