Early voting starts in Virginia with a rush
Virginians across the state flooded polls during the first week of early voting, with almost 200,000 voters. Additionally, over 926,000 Virginians have voted by mail. This broke records, as in 2016 under 353,000 Virginians voted early and 185,000 voted absentee.
Early voting in Virginia allows residents to vote in the general election prior to November 3, 2020. Voting early ensures that processing will have time to take place, makes sure voters have a chance to vote if they'll be away from their assigned location on November 3 and ensures that polls will not close since there's a 45 day window to vote.
Pro-Trump protestors stormed the Fairfax County Government Center on the second day of voting, making international news. This intimidation is illegal. Political demonstrations and activity within 40 feet of a polling place is illegal. It's also illegal to block voters from entering or leaving polling places.
As you can see here they are blocking the entrance to the voting site. #EarlyVoting #VA #FairFax pic.twitter.com/KJ6fbLdP3G

— Anthony Tilghman (@AnthonyTilghman) September 19, 2020
Voting in Northern Virginia's locations takes hours, as masked voters stand in lines that wrap around the entrance to the buildings. Voters have to stay distanced, which alters the timing. Virginia has been a solidly blue state in recent years, and many Democrats have been jumping to ensure their vote is counted in this tense race. President Trump openly blocked postal cash to hinder mail-in voting and has slandered the validity of voting, concerning some voters.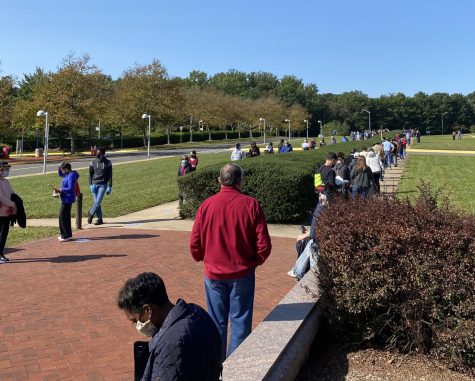 Governor Northam, who voted before going into isolation for COVID-19, stated, "Voting is an essential part of our democracy, and I encourage every Virginia voter to know their options and make a plan for safely casting their ballot."
This wave of Virginia voters matched the energy from the primaries, as Virginia set primary voting records, almost doubling from 2016.
Registration to vote in both Virginia and DC is open until October 13. Visit planyourvote.com to register, request ballots and find a local polling location.
About the Contributor
Helen Ehrlich, Editor-In-Chief
Helen is News Editor, Editor-In-Chief, founder and manager of the broadcasting department. She is the head manager of the Sentinel's social media. She...