Canada And Western Wildfires Causing Smoke To Spread To The East Coast
Smoke from the West Coast and Canadian wildfires have been moving East since July.
Each year, there are active wildfires primarily out West. California has experienced an ongoing drought and historically low rainfall since July 2021. Wildlife on the West Coast has not been getting enough hydration. In turn, the dead trees have been one of the biggest causes of the wildfires. The reason why these active fires have not yet settled is because they are spreading at a tremendous rate that first responders are unable to keep up.
According to the National Interagency Fire Center (NIFC), the ongoing droughts and historically low rainfall have triggered viciously arid conditions. More than 80 wildfires have caused around one million acres of land to burn. CNBC once wrote, "In Southern Oregon, the bootleg fire has burned nearly 400,000 acres and has become so intense that it's generating enough heat and energy to change the weather.".
Not only are the West Coast of the United States and Western Canada experiencing these struggles, but the situation has slowly made its way over to the East Coast. Air currents have carried smoke and ash thousands of miles east. Harmful air pollution has spread across the country, making its way to New York. On Wednesday, July 21st 2021, the air quality index had reached 157 in Manhattan. An AQI between 150 and 200 is signaling to the population that a lot of air pollution has been produced. The smoke was such a huge threat to the air quality, that it made the air inadequate to breathe.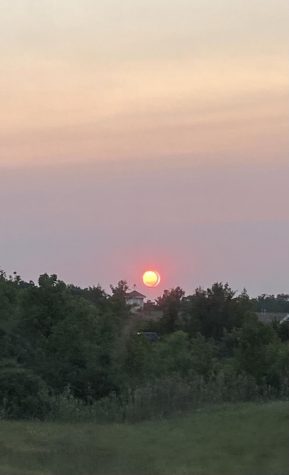 Air quality was only the start of the problem. Many individuals we're noticing the hazy skies and smoky sunsets. The smoke from the wildfires had created hazy conditions over Wisconsin. On Monday, July 19th 2021, the sun set was a bright orange-red near Oshkosh. In some cases, this may be a fetching sight, but in this case, it is actually the complete opposite. The remnants of the Wildfires have caused our natural world to slowly fall apart. It is insane to think local pedestrians and citizens had felt the flames of these wildfires which had originally came from thousands of miles away, but the ripple effect has been felt nonetheless.