BTS Talks About Youth and Performs at the UNGA
Over 1 million people tuned in to the United Nations 76th general assembly (UNGA) in New York to watch BTS speak about vaccines, climate change, and youth as special envoys. They were invited to speak in front of the assembly, to inspire younger generations to take action against climate change and to offer comfort after a long 18 months. This is the 3rd year they have talked at the UNGA, and they continue to spread the message of comfort and love. Although BTS is a band, they have officially become South Korean diplomatic envoys for future generations and culture. The president of South Korea, Moon Jae-in, told the members that many world leaders break the ice by talking about them. This position gives them diplomatic immunity and exemption from airport inspections while on official business.
One of the UN's many goals to reach by 2030 is dealing with climate change, "Everyone agrees that climate change is an important problem, but talking about what the best solution might be is not easy," J-Hope said. The next generation will be the ones who will have to find solutions and create a brighter future for the planet. They also talked about how Covid affected people worldwide "We thought the world had stopped but it keeps on moving," said RM the leader of the group. "What is important is the choices we make when faced with change," J-hope added. (They also took the chance to share that all members had proudly received their COVID-19 vaccines when discussing how we can embrace these changes.)
Not only did BTS speak in front of the General Assembly, but this year they also performed. "If we believe in possibilities and hope, even when the unexpected happens, we will not lose our way but discover new ones," said RM before their performance. They sang their song "Permission to Dance" at the United Nations headquarters. "Permission to Dance" is all about spreading positivity and believing in a brighter future.
The United Nations General Assembly is a gathering of all world leaders to discuss multilateral international issues. It convenes annually and in special sessions, electing a new president each year from among five regional groups of states. The United Nations was formed on October 24, 1945, in San Francisco, California. The United Nations was formed after World War II to maintain international peace and security. The UNGA has set 17 sustainable development goals (SDG) that are hoped to be reached by 2030. The 17 SDGs are:
No Poverty

Zero Hunger

Good Health and Well-being

Quality Education

Gender Equality

Clean Water and Sanitation

Affordable and Clean Energy

Decent Work and Economic Growth

Industry, Innovation, and Infrastructure

Reducing Inequality

Sustainable Cities and Communities

Responsible Consumption and Production

Climate Action

Life Below Water

Life On Land

Peace, Justice, and Strong Institutions

Partnerships for the Goals
These goals have been majorly hampered by Covid-19. The pandemic has pushed an additional 119-124 million people into poverty, 255 million people have lost full-time jobs, and the number of people struggling with hunger has increased by 83-132 million people. The pandemic has also intensified inequalities. As of 17 June 2021, around 68 vaccines were administered for every 100 people in Europe and Northern America, compared with fewer than two for that same number of people in sub-Saharan Africa. These statistics were released in the UN's official yearly report on the progress of these goals.
Vaccine hesitancy is something that people in many countries are struggling to handle. From conspiracies to health concerns, many people are hesitant or unwilling to get the shot. "We are all vaccinated and we sympathize with people who fear vaccines because it's something that didn't exist before. But I believe that if we're afraid of the past, we won't be able to make progress," says Kim Seokjin. Vaccines continue to be rolled out worldwide, with 6.33 billion vaccines having been administered. Approximately 34.4% of the global population is fully vaccinated. With that being said, millions across the globe are either hesitant or unwilling to take the vaccine due to health concerns or conspiracy theories. The chart below shows the percentage of the population per country with their stance on vaccines.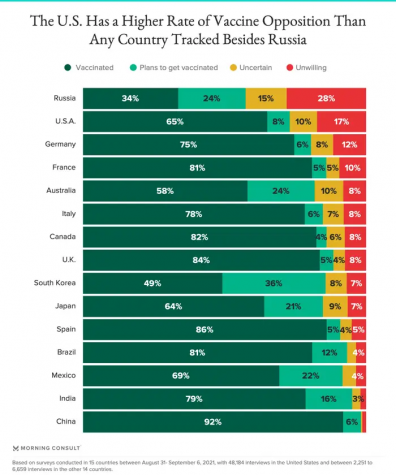 One subsidiary of the United Nations is UNICEF (United Nations Children's Fund). UNICEF is responsible for providing humanitarian and developmental aid to children worldwide. UNICEF has a presence in 92 countries and territories. The three goals that UNICEF works towards are to ensure that children's basic needs are met, to protect their rights, and address major threats to their health, safety, and well-being. In 2018, BTS spoke to the United Nations General Assembly about their Love Myself Speak Yourself campaign that supports UNICEF's #ENDviolence campaign. They have raised $3.6 million and have generated millions of tweets during the four years of teaming with UNICEF to fight violence, abuse and bullying and promote self-esteem in young people.
"Maybe I made a mistake yesterday, but yesterday's me is still me. I am who I am today, with all my faults. Tomorrow I might be a tiny bit wiser, and that's me, too. These faults and mistakes are what I am, making up the brightest stars in the constellation of my life. I have come to love myself for who I was, who I am, and who I hope to become" RM said in front of the assembly in 2018. Since BTS first spoke at the UNGA in 2018, they have continued to spread messages of love and support through tough times. Now more than ever, their messages uplift youth, and encourage them to never give up.