Rappers Young Thug and Gunna Arrested on Racketeering Charges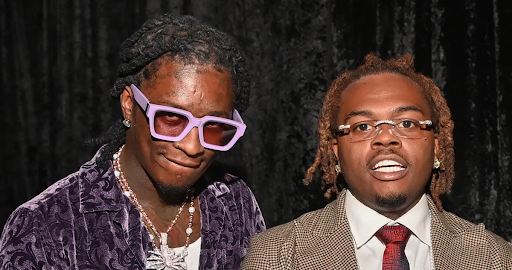 Rappers Young Thug and Gunna have been arrested over racketeering charges in their
hometowns of Atlanta.
Young Thug, legally known as Jeffery Lamar Williams, had, in part, founded a street gang in Atlanta responsible for murders, shootings and other violent crimes that he promoted through his music and social following. Alongside him was fellow rapper Gunna, legally named Sergio Giavanni Kitchens, and 26 others were all indicted on racketeering charges.
Young Thug, famous for his music and influence on hip-hop, was accused of starting the gang YSL, Young Slime Life, in late 2012. The gang is also known to be affiliated with the national Bloods gang.
Additionally, Kitchens, another famous rapper known to produce music with Williams, was also indicted for conspiracy to violate racketeering laws. Gunna was also said to not have been within state custody Tuesday.
Williams was arrested on May 9th at his home on charges of violating Georgia's RICO act. The Racketeering Influenced and Corrupt Organizations (RICO) act is aimed to shutdown traditional, organized crime, but has expanded into various crimes of fraud, theft, and cyber crime.
Controversially, the prosecution has used quotes from songs of Williams as evidence of their illicit behavior. Individuals across the hip hop community, including producer Metro Boomin, criticized the prosecution for the lack of concrete evidence and attempting to vilify Williams and Kitchens.
Additionally, the prosecution has said they are looking to give the defendants the maximum sentences, which could possibly lead to life in prison for some.
This isn't the first time a rapper has been arrested on charges of racketeering. Infamously, rapper 6ix9ine was arrested in 2019, which spawned wide-ranging discussions across the rap community. However, Williams and Kitchens are some of, if not the biggest artists to be arrested on these charges.
Historically, some rappers have been able to avoid jail time via plea deals, probation, and even presidential pardons, and Williams's lawyer has stated that they are willing to fight this case for his freedom.
It is unclear how the trial will go and what the results will be in the end, however, due to the defendants' fame and influence, it's assured that the trial will be widespread and closely looked at by members of the hip hop community.