Oscar's champagne colored carpet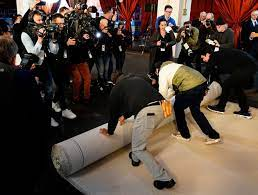 For the first time since 1961, the 50,000 square foot red carpet at the Oscars was not red. This follows recent trends of award ceremonies and premiers choosing unique and vibrant colored carpets, such as the gold carpet at the Emmys and the gray carpet at the Golden Globes.
The academy opted for a champagne colored carpet for the 95th Academy Awards. Lisa Love, a red carpet creative consultant, noted that, "the sienna-color tent and champagne-colored carpet was inspired by watching the sunset on a white-sand beach at the 'golden hour' with a glass of champagne in hand, evoking calm and peacefulness"
Oscar host, Jimmy Kimmel, joked at the opening ceremony, "I think the decision to go with a champagne carpet rather than a red carpet shows just how confident we are that no blood will be shed," in a clear reference to the incident last year where Will Smith slapped the previous Oscar host, Chris Rock.
Mindi Weiss, an event planner, also noted that the carpet "has to match the dresses," and that "the red clashed." This view has not been shared by several celebrities who attended, including Jamie Lee Curtis.
The actress posted on twitter, "apparently, at the Academy Oscars, their carpet is going to match my drapes," in reference to her Dolce & Gabbana dress that matched the color of the carpet.
Despite receiving this backlash, and with the support of Academy CEO Bill Kramer, Love remarked, "Somebody's always got a way to find something wrong with something." She added that one year "doesn't mean that it's always going to be a champagne colored carpet."
While the future is uncertain in terms of the next carpet color, one thing might be taken into consideration next year: How visible dirt will be. This was an issue noticed in several videos taken by actors and actresses highlighting the grimy look of the carpet.