For many people the most dreaded part of the college admissions process is the SAT/ACT requirement.The ongoing controversy over the role of standardized tests in college admissions reflects the broader societal conversation about equity, fairness, and the pursuit of a more inclusive education system.
Many colleges have adopted test-optional or test-flexible policies in an effort to level the playing field and promote a more holistic admissions process. Critics argue that these tests are plagued by issues of bias, socioeconomic disparities, and an overemphasis on test preparation, leading many colleges and universities to reevaluate their reliance on such standardized tests.
Story continues below advertisement
Those in favor of the standardized tests assert that they provide colleges with a valuable tool for assessing a student's academic readiness and potential. They argue that these tests can help institutions identify talent from diverse backgrounds and serve as a benchmark for comparing students from different high schools. However, opponents contend that standardized tests disproportionately disadvantage minority and low-income students. These students may lack access to expensive test preparation resources, leading to systemic inequities in college admissions. The preparation services start at a mean price of $995, and skyrocket from there. This absurd price, in addition to the cost of living in a nation faced by economic inflation, is widely unreasonable and unaffordable.
A survey was conducted in South Lakes High School, in which 60 randomly selected students were asked the question, "Did you submit test scores or select test optional for the 2023 admissions process?" The results are shown in the Pie Chart below.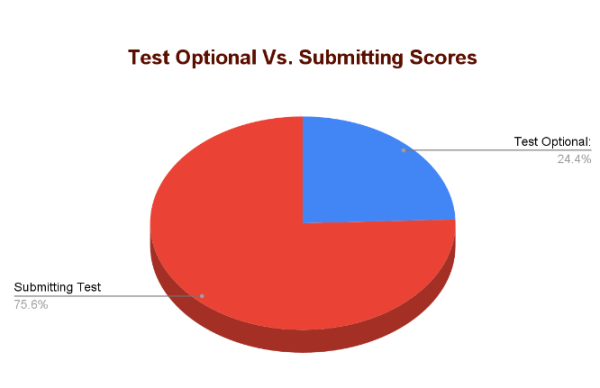 The data on this chart shows submitting ACT and SAT scores to be the dominant choice. This data could be correlated to Fairfax County being the "5th highest income county in the United States", according to the 2020 census. With this high income comes the ability to seek out preparation services like C2 Academy, Langley Prep and Elite Prep amongst countless others. But this does not define the entire population, "5.8%" (NVRC) of Fairfax County suffers from poverty, putting them at a significant disadvantage.
The role of standardized tests in the college admissions process continues to be hotly debated. On one hand, standardized tests like the SAT and ACT have long been considered a vital component of college applications. They offer an objective measurement of a student's academic aptitude and insight into the candidate for college admissions officers. Although this might be insight into a students academic aptitude, it is an expensive endeavor not available to everyone. As a student applying to college, the ball's in your court, you decide, the world is your oyster with the "80%" (IHE) of colleges in America with a test optional policy.