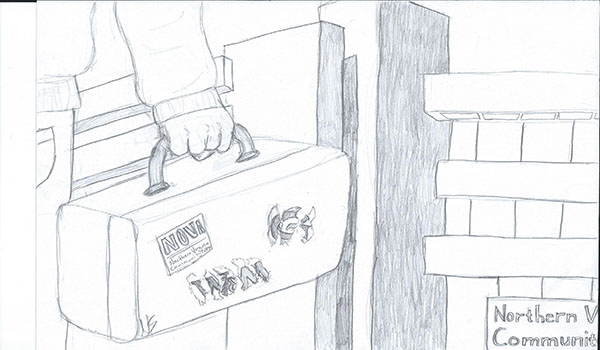 As they depart for the next chapter of their lives, seniors are making major decisions such as attending colleges and universities, pursuing careers, going to trade schools, or choosing community college.
Northern Virginia Community College, commonly known as NOVA, is an accredited two-year college and in fact the largest educational institution in the Commonwealth of Virginia.
According to the April 30 senior survey, 60 seniors from the Class of 2013 will also begin their post-secondary education at NOVA.
Yet, NOVA has a negative stigma attached to it. Our question: why?
Story continues below advertisement
People who complete the programs associated with NOVA, such as the Pathways or two-year programs, are offered guaranteed admission to over 40 Virginia colleges and universities as long as they maintain a certain GPA.
On top of guaranteed admission to many of the prestigious Virginia colleges and universities, private Washington, D.C schools, such as Georgetown University and George Washington University, recruit from NOVA for future enrollment.
With all of these wonderful opportunities, there is no reason that this NOVA stigma should exist. NOVA is also an excellent option for monetary reasons.
Yearly tuition to NOVA is about $145 per credit hour for in-state students. It costs $308 per credit hour to attend the University of Virginia.
Attending NOVA lessens the financial burden on a student and his or her family. Along with a diminished financial burden, NOVA's Pathways program allows you to receive your bachelor's degree from the school you graduated from, not NOVA.
One of the many rumors about NOVA is that the professors are second-class compared to the professors at state universities.
However, many state university professors retire and teach at community college, so NOVA students end up receiving good education. For what is missed from a state university professor is made up in with small class sizes and the development of personal relationships with professors.
Of course NOVA is not the perfect option for everybody, but this goes for all major life decisions. They are not universal. With NOVA's many perks, it still should be an option considered by all graduating students and future college attendees. For years NOVA has been deemed a lower-tier school as it is community college but these critics fail to realize the many benefits this nontraditional college path offers.
With NOVA's reasonable pricing, personable and intelligent professors, and great opportunity programs, it seems that NOVA path to college is underrated in comparison to the typical state university route.