The Queen of C-Pop: Jolin Tsai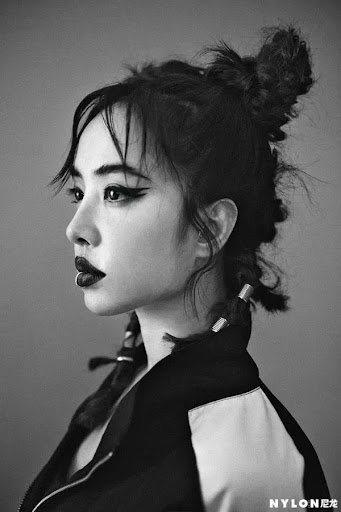 Jolin Tsai (蔡依林) is a 41 year old Taiwanese singer, songwriter, and actress. She is known as the queen of C-Pop, and has released 207 songs for fourteen studio albums, seven live albums, eleven compilation albums, one cover album, and others. In 1999, she released her debut studio album, 1019. She has gone on 5 world tours, J1, Dancing Forever, Myself, Play, and last, but certainly not least, Ugly Beauty. Jolin Tsai is known for speaking out about feminism, LGBTQ+ rights, and spreading love. Here are Jolin's most Iconic songs:
Ugly Beauty: Released on December 26, 2018 the album talks about suffocating beauty standards, and how people are always silently judging when they don't have the right to talk about anybody else. The song is extremely catchy and inspirational.
"Who are you to say
Wrong or right?
Beautiful or ugly?
If you ask me, I would say
I'm insanely bеautiful
Who dares to set
The standards of beauty
True self, false self, my self
Who I wanna be today
It all depends on me"
The Great Artist: "The Great Artist", released on August 15, 2012 on the album Muse, talks about reaching your full potential on your own and that a woman doesn't need a man by her side. This song is a great pick me up for when you're ever feeling down, and want to give up.
"Wake up, you are the great artist
Your create love with sincerity and it's priceless
Wake up, don't be a philanthropist anymore
You don't really love him that much
Love is the kiss from the MUSE"
Womxnly: "Womxnly" was released February 15, 2018 on the Ugly Beauty album. The Song was made in support of the LGBTQ+ community, and perfectly fit the Ugly Beauty album's message of self love. The song is very calming, and feels like one big hug.
"Which roses don't have thorns?
The best revenge is to stay beautiful.
The most beautiful bloom is when you start fighting back!
Don't let somebody else change yourself
You are him or her, it's fine
There will be someone who loves you wholeheartedly"
The chorus of the song begins by saying that the most beautiful roses have the sharpest thorns. That is to say, even something as beautiful as a rose still has its flaws. This calls to question: why is something so beautiful being attacked and bashed on? In recent society boys picking on other boys that looked too girly, straightaway referred to them as "gay." Jolin Tsai responds to this by saying that the best revenge to the haters of effeminacy is to 'stay beautiful, and to truly bloom in beauty, you must fight back!' She continues to support that no one has the power to change you. Only you have the power to define your gender because, in the end, there will always be someone who will love you wholeheartedly.
Fantasy: "Fantasy" was released September 14, 2012, and talks about living life the way you dream. Where happiness and love prevail through hardship.
"You make me really see a special colour
Now you ought to believe in yourself
Colourful, the world is colourful because of you
Extraordinary,
Turning the world is turning for you
Never lonely
You are my fantasy, you are my admiration
A delicate perception, a bold sexiness
You are my fantasy, you are my gorgeous
Exquisite feelings, big chunk of emotions"
Necessary Evil: "Necessary Evil" was released December 21, 2018, and calls out all of the people on the internet who point out her mistakes. This song has a dark tune that immediately draws your attention.
"A bit of necessary evil, a bit of necessary bad
Throw the plate, get drunk and blackout
Keep exaggerating, I'm full of tears
The bullying is cruel, the emotion is spreading, it'll stop once you stop looking
Even the pain doesn't give you the right to escape
When I'm out of tune, I need to be self-deprecating
Only wanna listen to your positive thinking"
Karma: Released on December 27, 2018. Jolin sings about her revenge on all the people who doubted her, and betrayed her in her song "Karma".
"You finally understand what is karma
You finally can learn a lesson that you've taught me before
You eventually did not disappoint my "wishes" to you
Finally, it serves you right"
Lady in Red: "Lady in Red" was released on December 28, 2018, the song talks about the significance of the color red, and how important it is. The song has an eerie vibe to it that pulls you in. In the music video Jolin transforms into an engaged princess who is betrayed by her fiance. She walks around in all red clothing talking about everything she believes should be red while taking you through a complex royal storyline.
"Why are the keys on the piano only be black and white?
Why not throw a red flag when you surrender?
I like it red…
I like it red…"
Mr. Q: "Mr.Q" was released on June 8, 2007, and is an undeniably catchy song. Mr. Q caught the attention of many, and was her first song to really take off .
"So cute hey you Mr.Q
Just because of you hey you Mr Q Mr Q
So cute hey you Mr.Q
Just because of you hey you Mr Q Mr Q"
Equal in the Darkness: Jolin's newest release with Steve Aoiki and Max. The song was released on October 22, 2021, and talks about how we all have internal struggles.
"You and me
In the darkness We're equally fragile
Pulling ourselves
We're both insecure
fear of not being loved
dare not to have expectations"
Jolin's discography ranges from amusing and catchy to deep and touching. She has proved her worth throughout her entire career, reassuring that her age will not stop her from continuing to perform. As long as her fans continue to support her, she'll continue to sing and perform. These are just a few of her amazing songs that most fans love. wHen you listen, you won't be disappointed.