Spotlight on the South Lakes golf team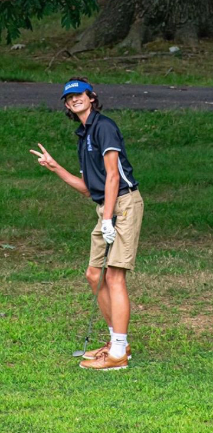 Golf is a sport that doesn't usually receive attention from the South Lakes student body, but it is a sport that many players feel passionate about and work hard at playing. Some players are new and learning their way through the sport from coaches and peers, while others have played their whole lives and are maybe even aspiring to have a future in golf beyond high school.
Nate Owen is on the boys varsity golf team. He is a sophomore, and this is his second year playing for the school. Nate has been playing golf for seven years and his goal for the team is for everyone to get better and hopefully strengthen some weaknesses in their games. Personally, Nate wants to qualify for regionals at some point in his high school career, although this year the competition was tough, hopefully Nate can meet his goal next year. Playing golf has helped Nate become more driven and more goal oriented. One of Nate's strengths is to drive the ball cleanly for distance, which Tommy Fleetwood also does incredibly well. Nate looks up to Tommy Fleetwood because he has the ability to strike the ball so well, and in Nate's words, "He has fresh hair."
Sydney George is on the girls varsity golf team. She likes being on the team, because she views it as a community. Her goal as a team is to create better communication and relationships, especially with the new freshmen on the team. Even though golf is usually viewed as an individual sport, Sydney likes the team work used when making each other better, like older players helping younger players to fit with the rest of the team. She looks up to Tiger Woods, and as a new golfer she aspires to dominate like him too, saying one of her ambitions is to "qualify for districts and achieve a score of 45".
Golf at South Lakes is always expanding and helping players to learn about the game of golf itself, as well as the ability to communicate with peers and develop people skills that will carry with players in life.