Enes Kanter Freedom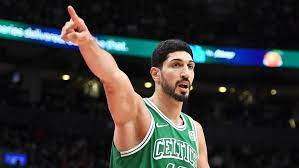 Twenty nine year old Center for the Boston Celtics, Enes Kanter Freedom, has had quite the week. The Turkish native became a U.S citizen and legally changed his name from to Enes Kanter Freedom.
Freedom is known for being outspoken towards the Turkish government and their president. In 2017, Turkey revoked his passport and put his name on the interpol list. Freedom is not allowed to enter his home country due to speaking out against Turkey and bashing their government.
Enes Kanter Freedom has been an activist and changed his name for human rights.
This season, Freedom has been vocal when it comes to China and its handling of human rights issues, leading to China banning the broadcast of Celtics games in the country. He has also stated that the 2022 Olympics should be boycotted. Freedom has gotten his point across through social media and by having the words "Free Tibet" on his sneakers he wore for Boston on opening night.
Freedom's first act as a U.S Citizen was to sit down with Tucker Carlson. Freedom talked about how much he loved America. He also talked about coming to America and how he didn't understand freedom of speech. He was afraid that one of his teammates would be arrested if they talked bad about the government or president.
Enes Kanter Freedom has criticized Lebron James because of hypocrisy because of not speaking out about human rights violations in China and educating him on the subject. Freedom also criticized Lebron for pursuing money over morals.
Freedom isn't the first NBA player to change his name. Ron Artest changed his name to Metta World Peace, but for a far different reason than Freedom. In an interview with Bill Plaschke, he got tired of Ron Artest and when fans get mad at him, they can say "I hate World Peace".
With sports, especially the NBA, being more involved in politics as ever, Freedom is at the center of it all. From aspiring change as an activist and educating the public, Freedom has made a name for himself not only in the sports world, but in a global sense.