Recipes to make in isolation
As our days seem to continuously grow longer, with fewer things to do and more things to eat, picking up the culinary skill might not sound like too bad of an idea! Many are making the smart decision to social distance and stay at home. However, having to cook many meals comes with the challenge of finding creative and tasty recipes that mainly consist of pantry staples. Here are some dish ideas that make self-quarantining seem not so bad.
Mac & Cheese with Roasted Veggies
Ingredients: Macaroni & cheese (boxed or frozen) and vegetables of preference.
Recommendations of vegetables to roast include: carrots, parsnips, brussels sprouts, asparagus, eggplant, zucchini, bell peppers, potatoes, and butternut squash.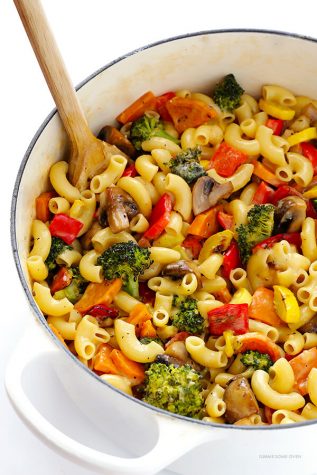 Recipe:
Heat a skillet medium-high over stove (size of skillet depending on amount of vegetables) with corresponding amount of cooking oil. Heat oil for 1-2 minutes.

Place desired vegetables (chopped to your preference) in skillet and season to your preference (usually black pepper, salt and red pepper flakes work best). Mix to combine the spices and spread the vegetables evenly in the pan. Set your timer for five minutes. Don't stir, let them cook!

While vegetables are roasting, cook the mac & cheese as instructed on packaging.

Once all is cooked, combine the roasted vegetables and the mac & cheese into one tray and serve!
Healthy, But Cheesy! Cheeseburgers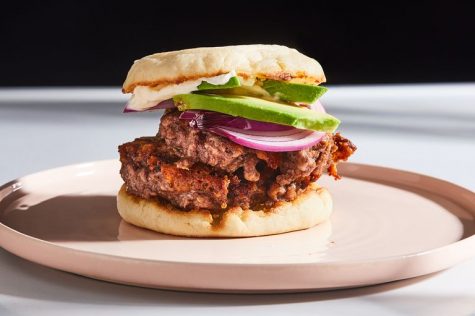 Ingredients: 4 ounces ground beef (or beyond meat as a meat substitute!), 1 1/2 ounces sharp cheddar, 1 English muffin (or a potato bun or a brioche roll), salt and black pepper, and your pick of condiments and toppings (I recommend: red onions, avocado and mayonnaise).
Recipe:
Mix the beef and grated cheddar in a bowl and combine by hand until incorporated. Divide in half and roll into two balls.

If you want a toasty bun, toast it in a toaster or oven. Then add condiments and toppings so your buns are ready as soon as the patties come off the pan.

Heat a skillet with a drizzle of olive oil over high heat until it's super hot and starting to smoke. Add the patties, evenly spaced out, then smash with a metal spatula until they're slightly wider, immediately season with salt and pepper. Cook for 2-3 minutes, flip then cook for another 1-2 minutes. Stack the patties on top of each other, transfer to the bun, and enjoy!
Easy, Juicy Tuna Melt
Ingredients: 2 cans of drained tuna, 1 diced small red onion, 1⁄4 cup of chopped green olives, 2 Tbsp olive oil mayonnaise, 2 Tbsp pesto, 1 Tbsp of chopped capers, squeezed out juice of 1 lemon, 8 slices whole-wheat bread, 2 oz of sliced mozzarella, 1 sliced large tomato, 1 tsp olive oil.
Recipe:
Mix the tuna, onion, olives, mayo, pesto, capers, and lemon juice, in a bowl and stir.

Preheat a skillet over medium heat and coat with a drizzle of olive oil.

Add slices of cheese to one side of one slice of bread to each pair.

Cook the sandwich breads for 2 to 3 (cheese side up), until the bread is toasted and the cheese is melted.

Add the mixed condiments/toppings in between slices and enjoy!