Music Review: Vampire Weekend "Modern Vampires of the City"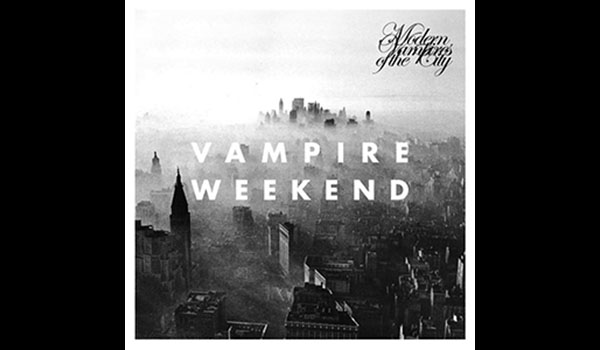 It's been three years since your favorite North Eastern posh 20-somethings, Vampire Weekend, put out their number one album "Contra." Those kids have grown up and produced a praise-worthy new compilation of up-beat songs that tell stories that never made any sense.
The first song the public heard off of "Modern Vampires of the City" was "Unbelievers" on "Jimmy Kimmel Live" this past Halloween. In the spirit of the holiday, their faces were painted in full skeleton garb. The tune shows definite growth in their style with lyrics that don't spin a schizophrenic-who-drinks-horchatas-and-and-wears-Lacoste's dream, unlike what we might be used to with lead singer, Ezra Koenig, and his crew. The instrumental still appeases that schizo.
Other singles off the album include "Step," a throwback to songs off their debut album like "Mansard Roof" and smash hit "A-Punk." Koenig sings lines like "Tapes from LA slash San Francisco/But actually Oakland and not Alameda/Your girl was in Berkley with her Communist reader" over harpsichord, piano, and bass riffs that are intertwined perfectly.
One of my favorite songs off this record is "Diane Young," a homophone for "dyin' young". Koenig's quips like "You got the luck of a Kennedy" are sung over distorted background vocals and crunchy synth. A main instrumental component is also the 60's-surf-music-esque guitar that makes this a stand out single.
Two slightly toned-down songs later, "Don't Lie" and "Hannah Hunt", "Everlasting Arms" greets you with Chris Baio's feel-good bass line, sappy but fitting violin, and Chris Tomson's tight drum lines. Koenig is accompanied by more distorted background vocals, a theme on this album. This song is one of my favorites on the album. It's probably the most sincere VW has ever been and it's refreshing.
After a couple more hits, like the ultimate chant song "Ya Hey," the album slows down with the last two songs. Unfortunately, those songs just don't seem to fit in. They might if VW was known for having good ballads that mix well with their upper-west side baroque pop, but they aren't. In this case, I give Vampire Weekend's third LP four out of five stars. It's basically like a sandwich in which ballads are the bread that merely hold in the foot-tapping, head-bobbing stuff you really want.