Halloween Movie Recommendations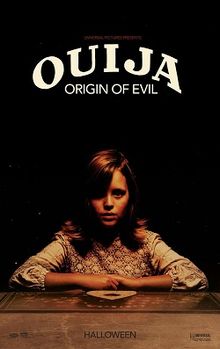 Advertisement
Although Halloween is over, here are some movies to keep you in the Halloween spirit all year round:
Ouija: Origin of Evil– Ouija just recently came out on October 21, 2016. In this movie, fortuneteller Alice Zander creates fake séances with her two daughters Lina and Doris. Alice decides to incorporate an rigged Ouija board in her séances and unknowingly contacts a spirit named Marcus, who temporarily possesses her daughter Doris. Alice and Lina work with Father Tom to rid Doris of the evil spirit possessing her.
Fun Size– High school senior Wren is left to look after her little brother Albert on Halloween. Albert disappears into a sea of trick or treaters while Wren is distracted by an invitation to a Halloween party. When she realizes her brother is missing, she asks for the help from her friends to search for him.
Carrie– Carrie White is a bullied teenager being raised by a religious zealot. She has a secret power, with which she can move stuff with her mind. After a cruel prank at her senior prom, Carrier wreaks havoc on all those who have bullied her using her telekinetic powers.
The Little Vampire– Tony has trouble making friends at his new school and is bullied by the other boys after moving to Scotland. He befriends a kid vampire named Rudolph. Rudolph's life is put in danger by a ruthless vampire and it is up to Tony to save him.
Coraline– Coraline discovers a secret door in her new home that leads to an alternative world like hers, but better. She enjoys herself in the better world, until her Other Mother tries to keep her there forever and she must use all her resources to get back to her world.