Review: Dangerous Woman Tour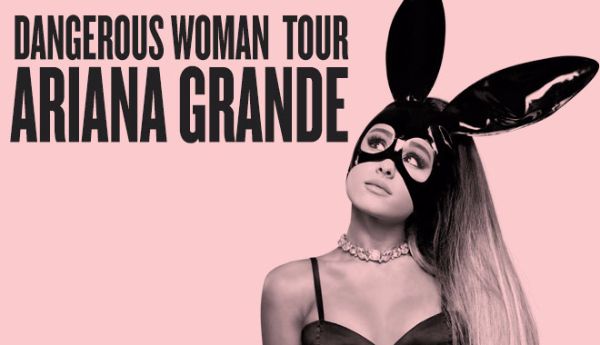 Brianna Jenkins, staff writer
March 22, 2017
Monday, February 27th Ariana Grande brought her Dangerous Woman Tour to the Verizon Center, in Washington D.C. where she shared the stage with  pop-R&B singer, who also happens to be one of her good friends, Victoria Monét and British girl group Little Mix.
The show opened with Monét singing songs from her debut album Nightmares and Lullabies. Back in September, the 23-year old singer-songwriter tweeted that, with just a couple of weeks left before their first Dangerous Woman Tour concert, there was a problem with her set. She explained to fans in a tweet at that time that she might not have dancers for her opening act. While she didn't have any backup dancers present that didn't stop her from putting on a show all by herself. She's not just an artist but a performer and I look forward to seeing a lot more of her in the upcoming years. Before she finished she made sure to tell the audience where they could follow her.
Little Mix took the stage next performing Salute. The girls were dressed in an all black ensemble and were accompanied  by 4 male back-up dancers.The next song they performed was Touch, their latest single followed by Hair, a girl power anthem that speaks volumes to those whom have just gone through a breakup. Little Mix is known for their rocking dance moves and they didn't hold back. It was emancipating, seeing so much girl power on one stage. Perrie Edwards introduced the next song by saying it was their first #1. There it is the nostalgia I felt for middle school. "Mama told me not to waste my life/She said spread your wings/my little butterfly" Wings was a song released back in 2012 off of their first studio album DNA. There were so many feels throughout the performance. They ended with their most succesful song to date Shout Out to My Ex.
We all watched in anticipation as they changed the set of the stage adding three staircases and removing the screen that had been up. An 8 minute timer was projecting onto the white curtain, and for the entirety of those 8 minutes the arena roared in excitement. From the view up above I and those around me could see her dancers getting into their positions. Finally, the show was about to start.
Ariana started the show performing Be Alright the second single off of her Dangerous Woman Album, that she's performed on SNL. From the moment she strutted onto the stage the audience went crazy.  She swiftly transitioned into her most recent single off of the album Everyday, a song that features Future. Grande released the music video to this bop on Sunday and it's already received over 11 million views. Next she performed Bad Decisions, followed by Let Me Love You, her second single off of Danger Woman ft. Lil Wayne. When this song ended there was a brief interlude, violins began to play and the stage remained dark but then Grande appeared on the screen in gauzy pastel light, singing  "Baby loves I'm tryna talk to you/there's a boy and I don't quite know what to do/good things come to those who wait/but patience ain't my thing"
Her second interlude entitled Feminists showcased visuals of her , dancing in slow motion to a hip-hop rhythm along with a series of words and like "empowered" "strong," "centered," "connected," "irreverent," "wild," "willful," "raw," and the repeated phrase "not asking for it," just to name a few. The stage turned into a gym for  Side to Side the Washington Post describes  it as "a song with a syrupy reggae-pop groove"  that she did with Nicki Minaj who was there as a projection on the white screen. This screen provided a prerecorder Grande  when she was changing costumes or taking a breather.
During the first half of the show her band was hidden away behind a white curtain. It wasn't until her final interlude that they were revealed. She slowed things down a bit with Moonlight and then smoothly transitioned into Love Me Harder a song that was released back in 2014 off of her 2nd studio album, My Everything. Her voice glided all throughout the arena, assembling with the voices of those singing along. However, she didn't slow things down for too long, performing another single off of My Everything, Break Free. She sat down while crooning a few ballads, but most of the time she was dancing around the stage and striding down a catwalk in platform boots. 10 dancers joined her on stage throughout each performance. The New York Times described them as  "full of camaraderie and playfulness, not command and control." During the entire duration of the show there were visuals of Grande, lasers, smoke, pink balloons, and flames. Mostly,  it was just Grande occasionally with her dancers on the plain white stage.
"Thank you, D.C.!" She said before disappearing behind the curtain. The entire stadium is on their feet now applauding, screaming, cheering. They're giving her an encore. They know it's over but they haven't accepted it yet. A minute later she reappeared and we heard the familiar guitar chords to her feminist anthem Dangerous Woman. She did a final outfit change, now wearing a black leather gown. The stadium was brightly lit, and there wasn't a single person sitting in their seat. She thanked the audience one last time before walking down the stairs at the side of the stage. "Ariana Grande asserts herself by acting like she doesn't have to" says the New York Times.