Art in the parking lot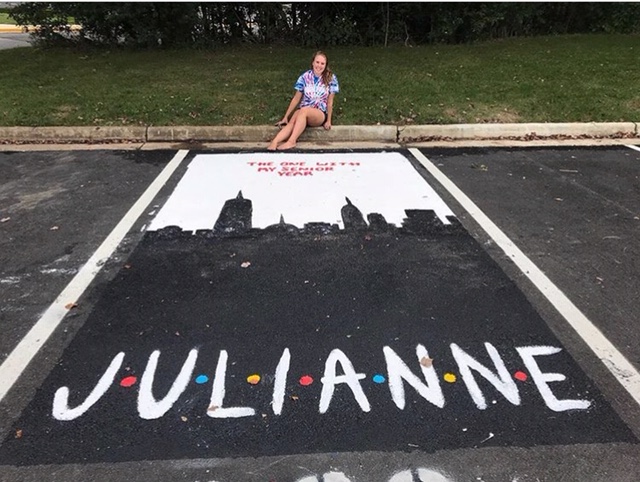 Vanessa Melendez, staff writer
October 1, 2018
For the first time ever, SLHS seniors were given the opportunity on September 22nd and 29th to paint their parking spaces between 10am and 3pm. This was an opportunity for the class of 2019 to show off their creativity and individuality through their parking spaces.
What started off as last year's Leadership class's idea has became official to have this year. An idea organized by council member Javairia Kan was made possible with the class's tremendous effort and patience. Leadership went through a long process where they proposed the idea to the administrative team and received feedback. Since last Spring, they've worked together to conduct research. For example, they decided on a $30 fee for repainting the parking lot back to black afterwards. With the improvements incorporated, they resubmitted the plan and finally had it approved in August, just in time to have the Class of 2019 try it out.
"I think it's a great idea, and kudos to the student leaders who made it happened. It wouldn't have happened if they hadn't pursued it and had gotten all the approvals and overcome any objections of their work. I'm proud of them for doing a good job," said Leadership teacher Ms. Fiscus.
We've got our Leadership class to thank for their effort and for making this happen. This is a way for seniors to express themselves and leave their mark before they graduate and make their way toward the path of adulthood. The administrative team will consider having next year's seniors paint their parking spaces and the graduating classes after that. It's one more way to make their senior year feel special, so let's take a moment and admire the work they have done to make their mark on our community, through their parking spots and otherwise.