Restaurant Review: Coastal Flats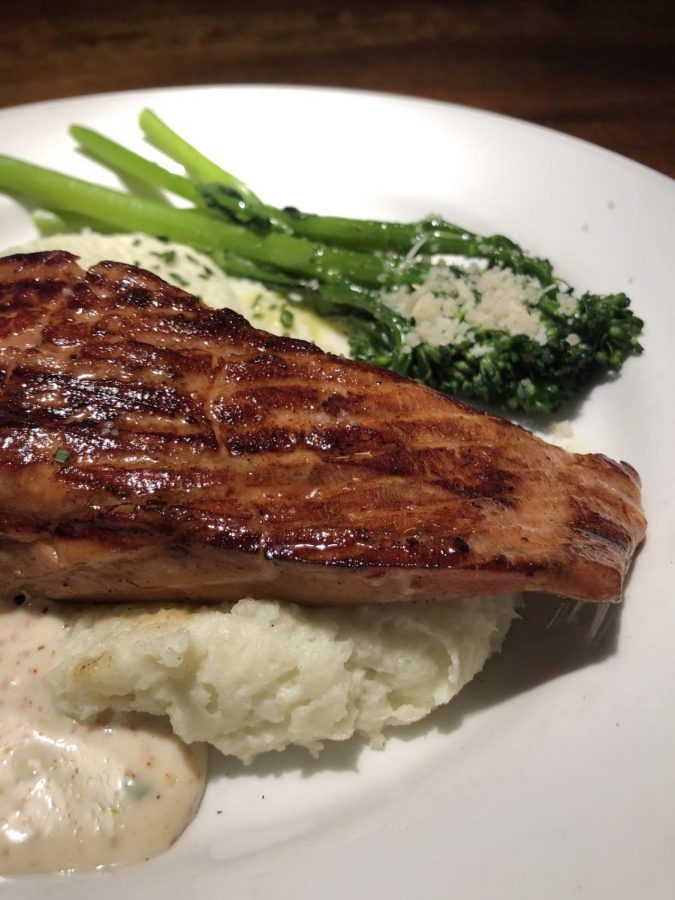 Miranda Sandoval, online editor
February 26, 2019
The other day, my Mom and I drove to Fairfax Corner and arrived at Coastal Flats around 4:30 for dinner. A part of the Great American Restaurant chain, I have frequented it many times while growing up; I've had consistently good experiences each time and so it has earned my respect. Anyways, since we hadn't dined there in a while, we decided to return again to see how it was doing. As soon as we entered through the revolving glass doors, we saw that the dinner crowd was already gathering. The restaurant was so packed, in fact, that you had to raise your voice to hear above the chatter and laughter.
We were welcomed by a smiling hostess, who seated us in a nearby booth. As we glanced around the dining room, one color stood out: this cheerful shade of yellow that brings to mind lemons and sunshine. We looked around at the metal tropical fish dangling from the ceiling. They had nice lighting, complete with stained glass chandeliers and decorative light fixtures carved with images of starfish and seaweed. One of the walls was covered by a colorful mural depicting Havana, Cuba in the '50s. Coastal Flats definitely had a distinctive tropical feel to it and established a coastal theme with its decor that was right on par.
Within five minutes after being seated, we were greeted warmly by our waiter, who was very friendly and attentive during our visit. I chose the Short Smoked Salmon Filet, and Mom went with the Hickory Grilled Chicken. Our entrees were promptly delivered to us, and we were excited to try our food.
The Short Smoked Salmon Filet is marinated, smoked, and then hickory grilled. It comes with a tangy Creole mustard sauce, broccolini that's sprinkled with Parmesan and a hint of lemon, and a creamy cauliflower mash with the tiniest chives scattered on top. The bold flavors of the sauce, broccolini, and mash made the salmon sing and brought out its smokiness. Though salmon is hard to prepare, mine was cooked to perfection. Its exterior was a dark reddish brown color, and its center was rosy pink. The fish was moist, delicate, and light. Most impressively, it was flakey and tender to the point of being melt-in-your-mouth.
The Hickory Grilled Chicken Breast comes with thin green beans, roasted cremini mushrooms, and sliced bell peppers – all served on a bed of angel hair pasta with herbs and a brown butter sauce. The chicken was cooked to a golden brown and had neat grill marks and a crisp, crackly skin. My Mom cut it open with a fork and knife, revealing glistening white meat. The breast was plump, juicy, and well-seasoned. Between the succulent breast meat, earthiness of the mushrooms, and the sweetness of the sauce, it was a very hearty dish.
To finish off our meal, we ordered and split the Warm Flourless Chocolate Waffle. This rich, decadent dessert is a chocolate lover's dream. It came topped with a dollop of fluffy whipped cream and vanilla ice cream that was drizzled with caramel. The waffle itself is lightly dusted with powdered sugar and sprinkled with a handful of crunchy slivered almonds. True to its name, the waffle is pleasantly warm, with a silky, velvety texture that we liked. Cut it open and a small lake of ooey gooey molten chocolate goodness comes pouring out. The only thing it was missing (which I noticed right away) was the proverbial cherry-on-top: the signature chocolate star. Being as I grew up with this dessert, it stood out to me like marinara sauce stains on a white shirt. I asked our waiter why; apparently Coastal Flats does not put the star on their waffle (unlike its sister restaurants, Jackson's and Artie's). I say they should. The plating of the dessert was not as neat as it was at Jackson's (Jackson's waffle is downright gorgeous), but it was not bad either. It still made my heart skip a beat (love at first bite? It's a thing) and did not deter Mom and me from enjoying the entire thing.
Overall, it was clear that the dishes were executed by innovative chefs with skill and exceptional attention to details. Dinner at Coastal Flats was quite the gastronomical experience. Using the official rating system of the Association of Food Journalists, we give this excellent restaurant three out of four stars.