Valentine's Day mixtape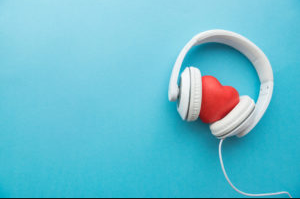 Valentine's Day is finally here! Romance is in the air, friends and couples enjoy the day together, and love is celebrated. Here are a few songs to help you get into the Valentine's Day spirit!
"All of Me" – John Legend
Lyric: "Cause all of me loves all of you."
An extremely popular song, John Legend's "All of Me" is a perfect song choice for a Valentine's Day mixtape! Released in August of 2013, Legend's extremely romantic ballad, dedicated to his wife (Chrissy Teigen), quickly became popular around the world. With lyrics like, "You're my end and beginnin' even when I lose I'm winnin'.", the passionate and open feel of this song will have you appreciating everyone and everything you love.
"Can't Help Falling in Love" – Elvis Presley
Lyric: "Take my hand, take my whole life too for I can't help falling in love with you."
One of Elvis's most famous songs, "Can't Help Falling in Love" is a classic that'll bring good vibes to your Valentine's Day playlist. Perfect for hopeless romantics to listen to, Presley's bittersweet song will have you feeling the raw emotion of the song within minutes of listening to it.
"How Deep is Your Love" – Calvin Harris and Disciples
Lyric: "How deep is your love? Is it like the ocean? What devotion are you?"
A modern day take on the Bee Gees 'How Deep is Your Love', Calvin Harris and Disciples techno version of this classic love song would be the perfect song to listen to on Valentine's Day! Listening to this song will have you questioning how deep your love is, in no time.
"National Anthem" – Lana Del Rey
Lyric: "Summer's in the air and baby heaven's in your eyes."
Seemingly inspired by JFK and Jacqueline Kennedy's marriage, Lana Del Rey's 'National Anthem' will fit perfectly into your mixtape if you're a fan of indie/pop music. Though the music video tackles dark topics like JFK's alleged affair with Marilyn Monroe and his death, the song itself has a much more sentimental and affectionate feeling.
"My Heart Will Go On" – Celine Dion
Lyric: "Near, far, wherever you are I believe that the heart does go on."
One of the most popular romance songs of this century, Celine Dion's "My Heart Will Go On" is a must-have for a Valentine's playlist! Mainly known for being used in the hit movie, Titanic, Dion's song is still universally popular today. Not only did this song win a Grammy in 1997, it'll also win your heart!
'Afterlife' – Hailee Steinfeld
Lyric: "Will you promise me you'll search for us? Will you find me after life?"
Released by Steinfeld in late 2019 for her TV show Dickinson, "Afterlife" is a poetic song that would be fun to listen to with your significant other. Resembling a poem (most likely inspired by Dickinson), Steinfeld's romantic ballad highlights eternal love and the morbid topic of love through tragedy and death. Though the song is emotional and has a dark undertone, the main romantic theme will fit perfectly on a Valentine's day playlist!
'OSVISS' – Oxygen
Lyric: "Your love like a flame that I burn through the night, your oxygen keeps me alive."
If you're into EDM music, this romantic song is perfect for your Valentine's day mixtape! Although the artist and song are extremely underrated, the beat, unique feel, and romantic yet sentimental lyrics of the song will have you dancing to the rhythm in no time!