The spirit of Disney at Broadway Night 2020
On January 31st and February 1st, Broadway Night 2020 spread "The Spirit of Disney" to the South Lakes theater. Talented high school, middle school and elementary school students volunteered to showcase in this spectacular production, making it a great success. The aspiring stars and dedicated choir directors dedicated many long nights to rehearsing this two hour long production act by act. Disney characters Mickey Mouse (high school student Griffin Van Hilst), Tinkerbell (middle school student Itsuko Scoville), Jiminy Cricket, (elementary school student Jackson Cariaga) and two fairy godmothers (high school students Corrine Wellman and Grace Moore) hosted the fun-filled night. The narrators did an exceptional job, entertaining the audience, introducing and transitioning acts, and giving fun facts about our favorite Disney classics.
The show incorporated Walt Disney's philosophy throughout the numbers: "First, think. Second, believe. Third, dream. And finally, dare." The performances had innovative twists that included concepts such as corporate america and cyberbullying, the importance of friendships, love and acceptance. The costume design, amazing dance choreographies and script writing between acts also helped illuminate Walt Disney's philosophes.
The show also welcomed aspiring elementary and middle school student performers into the show. Raquel Cochis, a seventh grade student at Langston Hughes Middle School, last seen as 'Young Eponine" in the 2019 South Lakes production of Les Miserables, shared her thoughts on this year's Broadway Night experience.
"Broadway night was a fun experience, and it was a really great way to meet new people," Cochis exclaimed.
This year's Class of 2020 Broadway Night Cast was huge! The following talented seniors participated in the show: Rachel Aguilera, Elspeth Berry, Anand Bhandari, Tyler Cariaga, Camille Denny, Alex Desai, Sara Folsom, Margarita Gamarnik, Kara Handy, Mona Hassan, Lindsey Hirshfeld, Andrew Johnson, Katie Larson, Ryleigh Line, Sammy Melideo, Grace Moore, Alana Riso, Antonia Rosoiu, Lauren Skinner, Aidan Smith, Leana Travis, Ryan van Hilst, Chloe Vanderhoof, Corrine Wellman, Izzy Wyland and Danielle Yakubisin. They were all honored during their final Broadway Night performance, along with the stage crew, music directors, George Mason University band members and parent volunteers who made the Broadway Night 2020 vision a reality.
This year was senior Ryleigh Line's first time participating in Broadway Night, but she was in the audience for the 2019 and 2018 productions. She sang as one of the three leads in the number "Poor Unfortunate Souls," from Disney's The Little Mermaid.
"My favorite part [of the show] was probably meeting new people from choir and being engaged in a community I don't usually have the opportunity to interact with. Everyone was very supportive, and I made a lot of new friends," Line explained.
"I would definitely recommend the experience. There are roles at all levels and anyone who wants to participate can in a multiplicity of ways," Line added, to encourage South Lakes pyramid students who are interested in choir, theater, or being spontaneous and trying something new.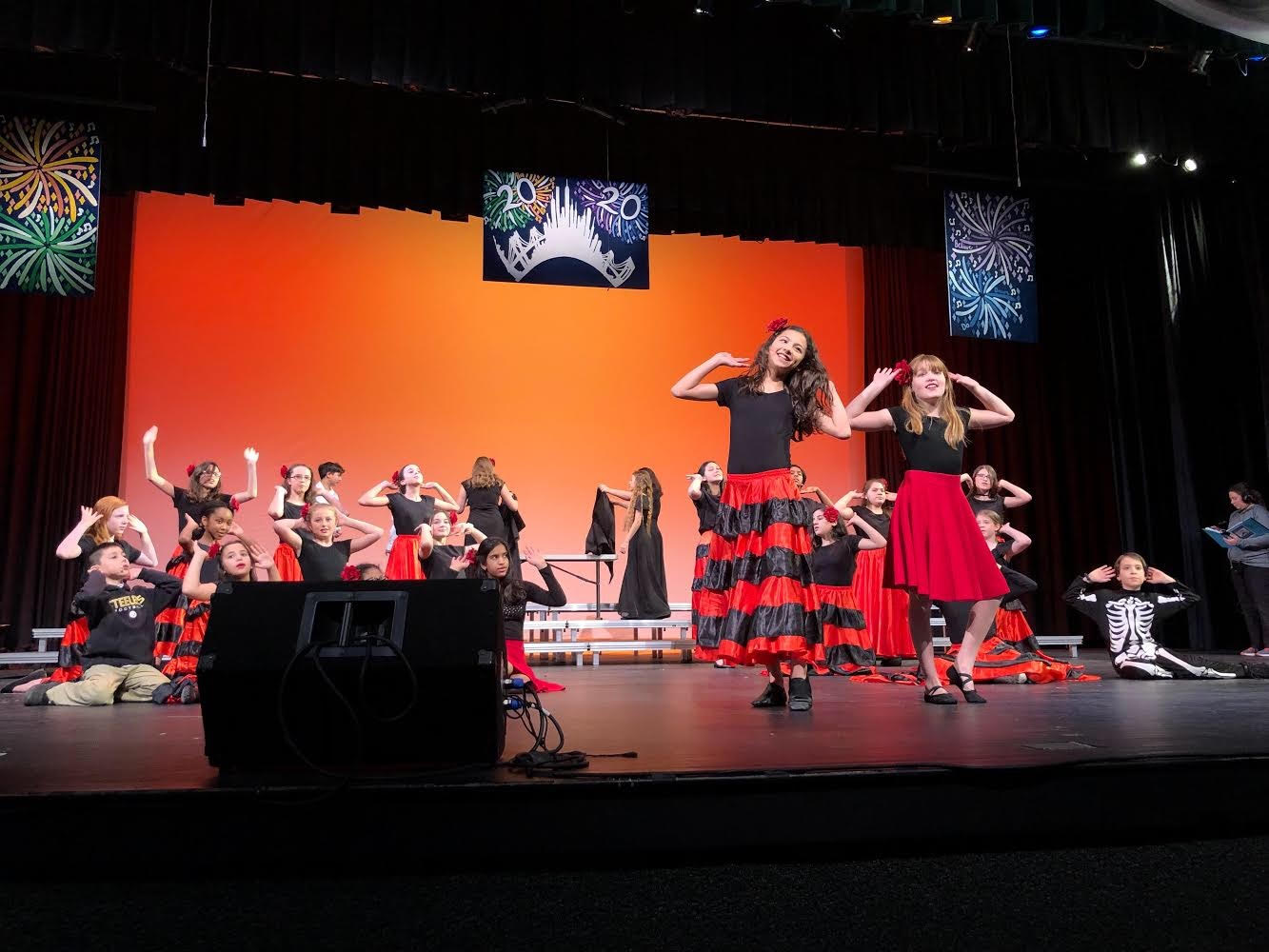 Senior Izzy Wyland has participated in three Broadway Night productions at South Lakes! She sang and danced in the number "Zero to Hero," from Disney's Hercules.
"I loved the Disney theme because there were so many fun, and known songs that can be enjoyed by everyone of all ages. It reminds most of us of our childhood and happiness, so it was really fun to portray and see on stage. In addition, the creative directors collaborated to come up with new, innovative versions of the songs to modernize or change the concept which made the numbers really interesting and a true experience to watch," Wyland revealed.
Following the final performance, high school seniors gave tear-jerking speeches about how great the experience of being a part of Broadway Night was for them. It was definitely a night to remember.
"The Spirit of Disney" 2020 production of Broadway Night was a success, with a selection of magical numbers from various all-time Disney favorites. It gave a bunch of talented students the opportunity to showcase their voices, dancing ability, and overall excitement for musical theater. If the performers inspired you to take the mic, think about joining in on the fun next year in the annual tradition of Broadway Night!
Here are the highlights of the show and all our South Lakes performers: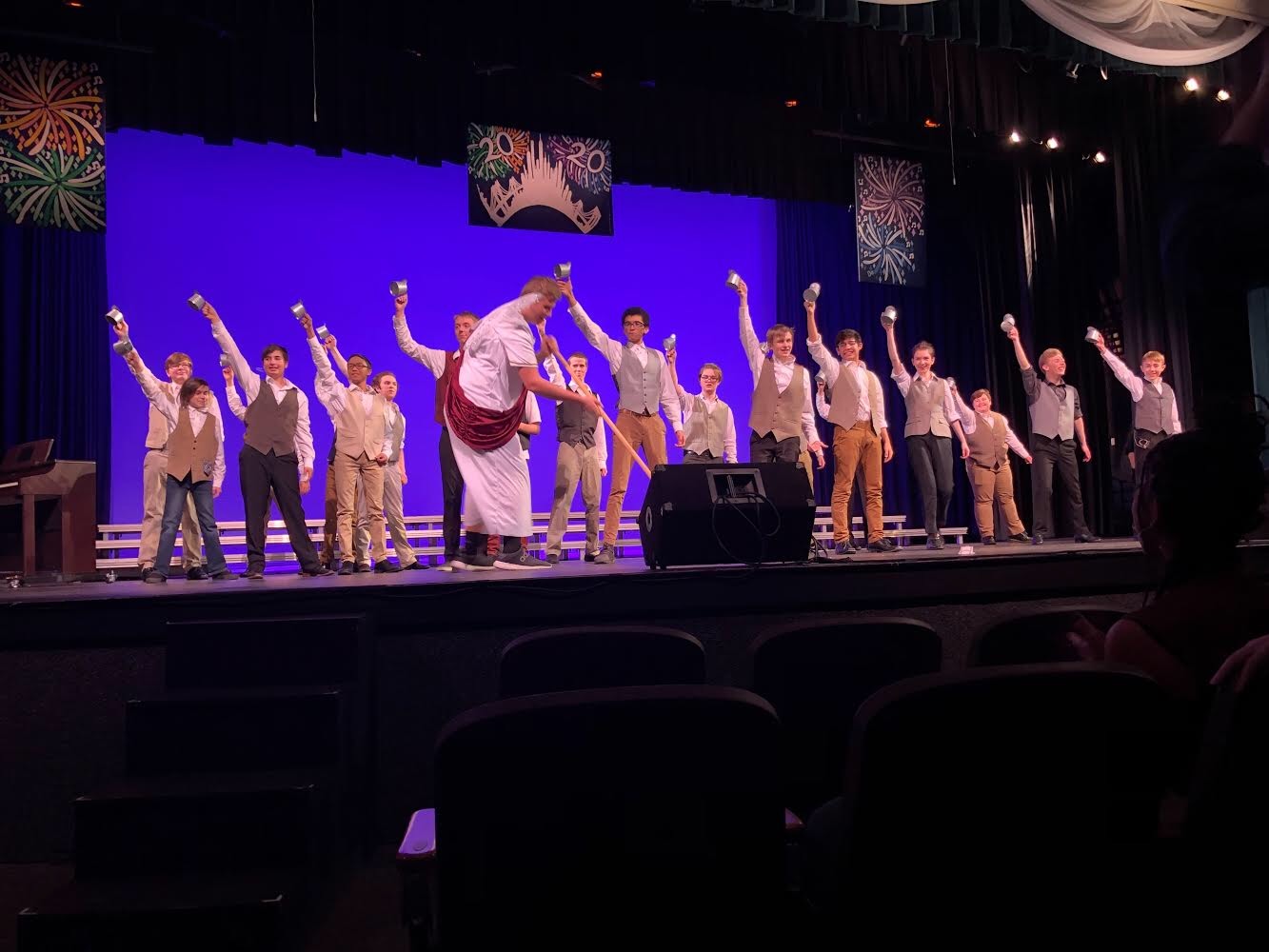 Act 1:
"When You Wish Upon a Star" from Pinocchio, performed by Lauren Skinner.
"Hawaiian Roller Coaster Ride" from Lilo and Stitch, performed by an Elementary School Cast.
"Try Everything" from Zootopia, performed by Chloe Baker, Leslie Hernandez, Lisa Kalinowski, Sharisse Mararac, Katelyn Mehlenbeck, Mia Milosevic, Shadi Oveissi, Sara Shahzad, Morgan Sivak, Leana Travis, Chloe Vanderhoof, Abby Wyland, and Karina Yakubisin.
"Just Around the Riverbend" from Pocahontas, performed by Camille Denny.
"Dig a Little Deeper" from The Princess and the Frog, performed by the Middle School Treble Cast.
"Impossible" from Cinderella, performed by Mikayla Kirr, Grace Moore, Evie Errett and Corrine Wellman.
"Poor Unfortunate Souls" from The Little Mermaid, performed by Ireland DiBacco, Katie Larson, Ryleigh Line.
"Topsy Turvy" from The Hunchback of Notre Dame, performed by Zach Arkelian, Elizabeth Ashby, Anand Bhandari, Dori Burdick, Tyler Cariaga, Bryce Fudge, Graham Ishaq, Mary Kalinowski, Brianna Martin, Sammy Melideo, Harley Newman, Alexa Norris, Caitlin Quigley, Ryan Van Hilst, Zia Wallach and Emily Werner.
"You'll Be In My Heart" from Tarzan, performed by Danielle Yakubisin.
"Un Poco Loco" from Coco, performed by an Elementary School Cast.
"How Far I'll Go" from Moana and Hercules, performed by Alex Desai and Delia Hartman.
Act 2:
"I've Got a Dream" from Tangled, performed by Zach Arkelian, Anand Bhandari, Tyler Cariaga, Alex Desai, Paul Figueroa, Bryce Fudge, Matthew Guerber, Lucas Heishman, Graham Ishaq, Andrew Johnson, Christian Mclntyre, Sammy Melideo, Harley Newman, Mike Panatier, Aidan Smith, Griffin van Hilst, Ryan van Hilst, David Whomsley, George Wynes and a select few of the middle school cast.
"Bare Necessities" from The Jungle Book, performed by Rachel Aguilera, Adrianna Barragan, Elspeth Berry, Abby Brenner, Sara Folsom, Mona Hassan, Antonia Rosoiu and Nadia Shiblie.
"Watch What Happens" from Newsies, performed by Margarita Gamarnik.
"Zero to Hero" from Hercules, performed by Gabriella Asfaw, Katie Falcone, Jaelyn Gilmore, Kara Handy, Danielle Kessler, Audrey Moore, Alana Riso, Violet Sather, Audrey Webb, Izzy Wyland, Rebecca Yakobson.
"Just Can't Wait to be King" from The Lion King, performed by Hannah Carter, Mike Panatier and David Whomsley.
"Let it Go" from Frozen, performed by Nathalie Batres, Tammy Guidry, Sydney Hahn, Abigail Jamison, Emme Kasprzyk, Elana Kirwan, Virginia Nardelli, Mariah Reveron and Leila Zavala.
"Candle on the Water" from Pete's Dragon, performed by Ryan van Hilst.
"Babkak, Omar, Aladdin, Kassim" from Aladdin, performed by Griffin van Hilst, Matthew Guerber, Lucas Heishman and Aiden Smith.
"When She Loved Me" from Toy Story 2, performed by Lindsey Hirshfeld. Dancers were Danielle Yakubisin and Karina Yakubisin.
"You Are the Music in Me" from High School Musical 2, performed by the full cast! The finale!
About the Contributor
Olivia Cochis, Features Editor
Olivia Cochis is currently a senior at South Lakes High School. She is a features editor for the Sentinel. She has been on the staff all four years, and...