The wonders of virtual ballet theater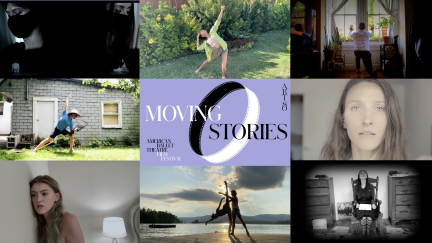 In the midst of this pandemic, many talented dancers are looking to find new ways to keep moving. Herman Cornjero, an American Ballet dancer that has been greatly missed in theaters, has found a way to produce his art through his hidden skills in video and sound editing. Through this, he created Moving Stories, the first ever film festival in Ballet Theater.
The company's artists are asked to submit three to eleven minute videos of them dancing. Typically on Wednesdays and Thursdays, a two-hour compilation of the dancers is premiered on YouTube. According to Karen Phillips, the creator of the American Ballet Theatre (ABT) website, the films are surprisingly original and wildly varied. The main idea of ABT was to give their dancers a chance to express the loss they felt after being unable to partake in live performances. Each artist found their own way to reflect on the current times through movement, using the creative process as an outlet through which the dancers can better handle their emotions.
After screening the films, the artists held a roundtable discussion with the filmmakers. The creators are given a chance to open up about their personal challenges and what inspired them. Moving Stories had opened up another, unexpected side to their creativity. Some dancers found themselves adding a more outlandish edge to the elegance of classical ballet, making for a captivating performance.
Eric Tamm's Le Tré Cortège, though inspired by the loneliness he experienced in quarantine, takes on a bright and lively feel as he dances in his yard. Despite being locked up, Tamm finds that there's still work to be done in his yard. He even takes a moment to dance with his rake. His film is quick-paced with splashes of stop-motion, reversed film, and bright color. It may be considered excessive, but Tamm is more focused on having fun. It's a silly and fun contrast to the typical downcast tone of the performances.
Many took the opportunity ABT gave them to explore their personal feelings. Soloist Alexandre Hammoudi's Transonata, the opening to Moving Stories, takes us into the world of quarantine and lockdown. The audience is shown an abandoned Lincoln center, empty and closed off. They also presented the cold and hollow look in the eyes of Skylar Brandt, a dancer who can't seem to comprehend why he's been locked out.
The stage of Joyce Theater and Lincoln center may still be empty, but that doesn't mean their performers have to stop dancing. The digital stage is for the taking, and with so many people staying indoors for safety, it's important for these artists to have a way to express themselves and share their work.
The same can be said for students and performers at South Lakes! Taylor Anderson, who is a dancer at our school, has been signing up for adult drop-in dancing classes set up by her local studio. "These are solely meant to keep you in shape and keep up with technique, not for any performance reason or academy requirement," Taylor mentioned. Many local Reston dancing studios have been taking precautionary measures in order to encourage safety during covid. Ravel Dance Studio has required dancers to be dropped off in masks with their hands sanitized before and after class. While it's not prohibited, visitors are discouraged, and belongings must be kept in holding rooms.
As the dance environment continues to be modified, there may be a lack of partnering choreography, and close formation spacing. Still, this shouldn't counter anyone's desire to keep dancing. Even without an audience, Ravel Studio still took on the stage and performed their Nutcracker Ballet just to keep up with tradition, and even without cheers, the dancers were still thrilled to keep up with tradition.
About the Contributor
Caiya Morrison, Staff Writer
Caiya Morrison is currently a senior at South Lakes High School. She is a staff writer for the Sentinel. She spends most of her time writing creatively...