What Concerts are Like During Covid-19
In my life so far, I have been to over 30 concerts. I jump at every opportunity to see artists and bands I like in the flesh. I truly cherish a good show by a great artist. When the shutdown happened and live music was canceled, I was devastated. It was not clear when big or small shows would return due to many concerns. Almost two years later, live music is back.
Last week, I was fortunate enough to attend two separate concerts. Tame Impala at the Capital One Arena, and The Avett Brothers at Wolf Trap. I bought these concert tickets back in March with the notion that both of them were going to get either canceled or postponed to a later date. Despite these thoughts, I still paid knowing that if the worst happened, I would just get refunded. To my pleasant surprise, both shows were not cancelled, and I had a great time!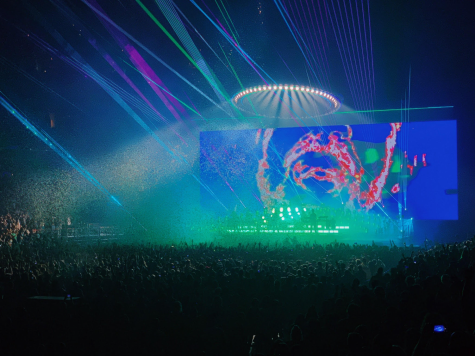 Tame Impala has been patiently waiting for "The Slow Rush Tour" to kick off after it was delayed due to the Pandemic. The group, hailing from Australia, has been able to perform shows there, while the U.S. has been patiently waiting for live music to return. An Instagram post from 2020 read "please hang in there and don't rip up your tickets, we'll be back as soon as we can".
Going into these events, I had no idea what to expect. Both venues had listed strict protocols on their websites. However, I wasn't sure how much they would be enforced. Before going to Capital One, I had to download an app called CLEAR . This app is used for live music, sports, events, and travel. Once in the app, I had to upload my vaccine card, the dates of the vaccine administered, and a photo of myself in order to receive a green "health pass". I thought entrance at the venue was going to be stressful and take a long time, however, it was the exact opposite. My friend and I got in within five minutes of waiting in line and had no problems with the health pass. The concert itself was so much fun! It was so great to be back singing and having fun with a crowd again! The only negative thing was having to wear a mask while inside the venue because it was hot. Other than that, everything else was beyond satisfactory.
Next up was Wolf Trap – one of my favorite venues. The majority of Wolf Trap consists of uncovered lawn seating surrounded by beautiful nature, with the other half of seating being covered, closer to the stage. All we had to provide for entry here was a picture of our vaccination card in order to get into the venue. The venue was packed, so it took a bit longer than expected to get situated. Once in our seats, a man in our row started getting mad at people who didn't have their masks on. I didn't expect this to happen because we were outside, and everyone was vaccinated or had to provide proof of a negative test , however, I guess these arguments are something new we can expect at large events. The argument ended in masks being put on and the man leaving our row. Despite this little squabble, everything else was enjoyable. The atmosphere of the show was beautiful. Everyone was singing along together and overall there was a good feeling of camaraderie, even though we were just strangers at a concert.
I think that after such a long time without live music, people are appreciating it more than before. Going to a concert was always seen as something special to me, but after Covid, I find myself treasuring these moments even more.